There is a restaurant in Miami called Mercadito that has the most amazing guacamoles.  There are about seven, in all different flavors.  But my favorite is the chipotle.  The smoky vinegariness is the kind of stuff I dream about, cutting through that fatty avocado.  It just works.
This is my version, spicy, smoky, rich, and delicious.  I usually pair it with hot black beans and stuff ungodly amounts of the stuff into warm corn tortillas.  Extra cilantro never hurts.
Excerpted from my weekly column The Secret Ingredient on Serious Eats.
Click HERE for my coverage of Mercadito.
Holy Smokes Chipotle Guacamole
serves 4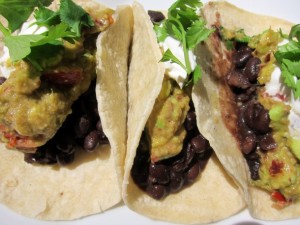 INGREDIENTS


3 Hass avocados


1/8 red onion, finely diced


2 vine ripe tomatoes, seeds removed, finely diced


1/4 cup cilantro, roughly chopped


Juice of 1 lime


Kosher salt


2 chipotle peppers, finely diced


2 teaspoons adobo (from the chipotle can)


1 clove garlic, grated


PROCEDURE
Scoop the flesh of the avocado into a large bowl.  Add the rest of the ingredients, and use a wooden spoon to mash everything together.
print this recipe