Get the whole story on Serious Eats.
Today is Bastille Day!  A veritable fête.  In the States, I always toast La France with an early evening pétanque game on the beach, and a twilit grill or picnic.  If I'm lucky enough to be in France—something worth celebrating on its own—it's down to the fireworks show.
By way of a bit of history, on this day in 1789, brave French people stormed the Bastille prison, an uprising that contributed to the fall of the French monarchy and the establishment of the republic that France is today.  I often joke that culinarily speaking, France was never in a bad place.  Whether you were eating the bread and water of the Bastille (what is better than French bread and French water?) or Marie Antoinette's cakes (to quote Ina, how bad can that be?), you were eating well.  Of course, that's not really true, and in all seriousness, it is a very proud day, hoisted up by the triumvirate of ideologies that is still so powerful in France today: liberty, equality, and brotherhood, symbolized by the blue, white, and red of the French flag.
This sweet, simple dessert is only appropriate in the heyday of summer and its sweet, plump berries, coinciding just perfectly with Le Quatorze.  The white of the meringue (store bought, of course—it is to hot and humid to deal with homemade meringue) and French vanilla whipped cream stand for egalité.  The blueberries for liberté.  And the raspberries and currants for fraternité.  A fun, jaunty little tribute to Le Tricolore on this great summer fête.
Tricolore Berry Meringue Creams
serves 4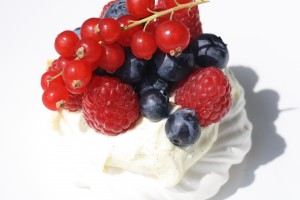 INGREDIENTS


1 cup heavy cream, very cold


The seeds from 1 vanilla bean


2 tablespoons granulated sugar


4 bought meringue nests, about 3.5 inches in diameter


20 raspberries


25 to 30 blueberries


4 stems red currants


PROCEDURE
In a large bowl, add the cream and the vanilla seeds.  Whisk until stiff.  Stir in the sugar.
Arrange the meringue nests on a platter.  Fill each with a quarter of the vanilla cream.
Arrange the berries on top.  To make them look their best, arrange the raspberries first: a cluster of 3 opposite a cluster of 2.  Fill in the gaps with the blueberries, and top with a strand of red currants.  Serve right away, although these will keep okay covered with plastic wrap in the fridge for about an hour.
print this recipe