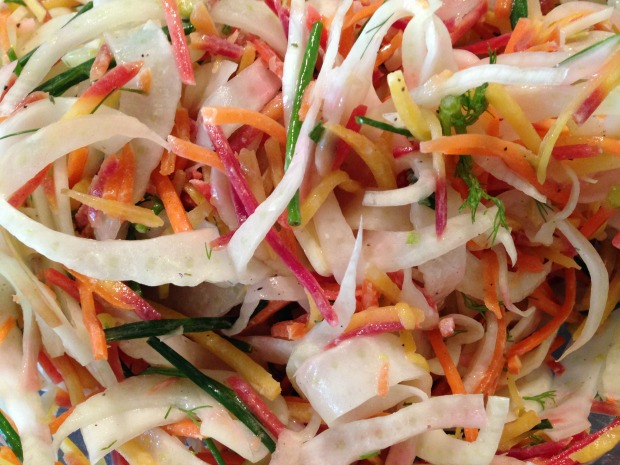 I am devoted to slaw.  If it's on a menu, I order it.  And I make it constantly, in huge batches, and use it to stuff tacos, to top burgers, as a salad bed under steak or pork or grilled fish.  It's so lively.  The crunch.  The mixture of all those different things, getting along, being better than the sum of their parts.  And while I adore cabbage (I mean, I really ADORE it), slaw isn't just for cabbage anymore.
I was at the supermarket Monday night, thinking to take something healthy with me to the office for lunch, when I saw a bag of pre-shredded rainbow heirloom carrots.  It felt very Brooklyn meets the Upper East Side, so I snapped it up.  It was destined for a slaw.  So I bought a giant fennel and some chives that I would cut in long spears to round out the vegetables.  Then I tossed it with my simple slaw dressing that I always use: lemon juice and zest tossed with olive oil and mayo.  And because I like doing things a bit vegan now and again, I went for Vegenaise to be extra virtuous.
It's such a becoming slaw, with all its paleness punctuated by the bright shards of carrots.  It's the perfect match of crunchiness and that slight wilt that lemon juice gives.  It's just terrific.  I hope you try it!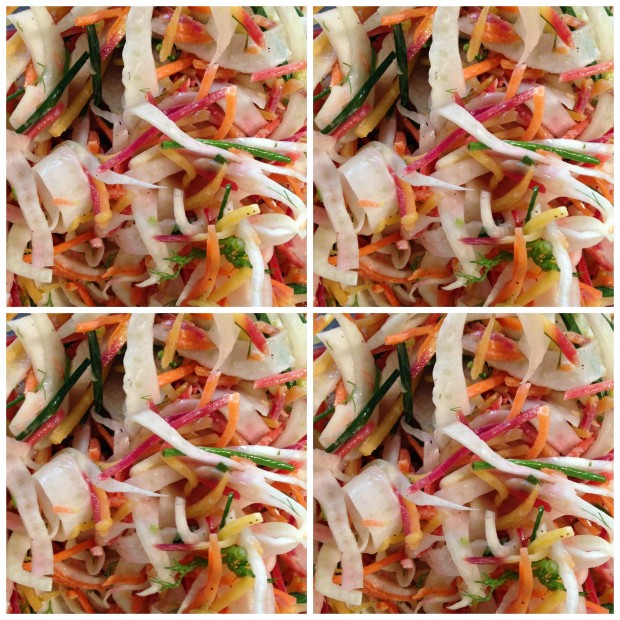 Bon app!
Bonafide Heirloom Carrot, Carrot, and Chive Slaw
serves 4 to 8, depending on how you use it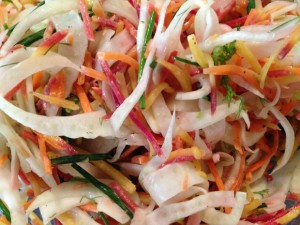 INGREDIENTS
2 tablespoons extra virgin olive oil
2 tablespoons of mayonnaise or Vegenaise for a vegan version
The juice and zest of 1 lemon
Sea salt and freshly ground black pepper
1 10-ounce bag shredded carrots, preferably rainbow heirloom carrots
1 large fennel, shaved on a mandoline, fronds chopped and reserved
½ bunch chives, cut into 1 ½ – inch pieces
PROCEDURE
In a large bowl, whisk together the olive oil, mayonnaise or Vegenaise, lemon juice and zest, and salt and pepper until smooth.  Then toss in the carrots, fennel and fronds, and chives.  Toss thoroughly to coat.  Cover with plastic wrap and refrigerate at least one hour, and up to overnight, before serving.  You could serve right away, but letting the fennel and carrots sit in the lemon juice and salt helps to extract some of the vegetables' juices and wilt just enough of the crunch out to make it the perfect slaw texture.
print this recipe