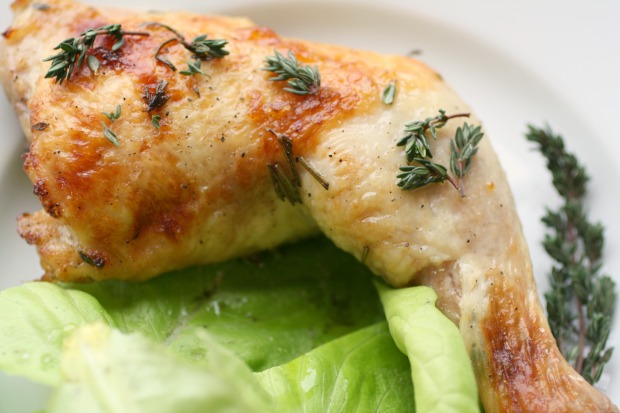 Poor Mr. English.  He always asks me, what's the point of marrying a girl that you can take-out-of-New-York-but-you-can't-take-New-York-out-of-the-girl if she won't make you chicken soup?
I'm chicken intolerant.  It's not something I often confess in foodie circles, but it's true.  To me, fried chicken is like ice cream to a lactose intolerant.  So unutterably irresistible, and so not worth the agony.
So the chicken recipes on this site are anytime Valentines to my husband.  I have a bite, maybe two, to assess my work, down a glass of seltzer, and pass it over to him.  Usually, I stare at him while he eats it.  Ask him over and over again what he thinks.  I eat vicariously, and he, bless him, is as tolerant of me as I am intolerant of the chicken.
I am particularly pleased with this Valentine: bone-in chicken marinated overnight in crème fraîche, woodsy herbs, shallots, and garlic.  The rosemary, thyme, shallot, and garlic permeate the crème fraîche and eventually the chicken.  And the crème fraîche, like buttermilk, tenderizes the chicken so it is soft, juicy beyond belief.  The crème fraîche on the skin causes it to bubble up, char, and blister.  But the inside remains pale, perfumed, and perfect.  I serve it with green salad, baguette.  It's homey.
Because if you're married to a food blogger, you eat your Valentine's dinner at 11 AM the weekend before (perfect lighting, perfect timing), I already stared at him, asked him what he thought, and ate vicariously through him.  I have to say, I never feel more like a wife than when I am roasting chicken for my husband.  Maybe it's because of the level of sacrifice in it for me.  After all, at least half the joy of cooking is the payoff of eating.  Maybe it's because it's my own extreme version of Engagement Chicken.  Maybe there's just something primal-ly, traditionally devoted about roasting one's man a chicken.  I don't know.  But he smiled, and I smiled, and I thought, I am lucky to have someone to love so much that I would make him this homey chicken.
Maybe next year I'll cave and make him chicken soup.
Bon app!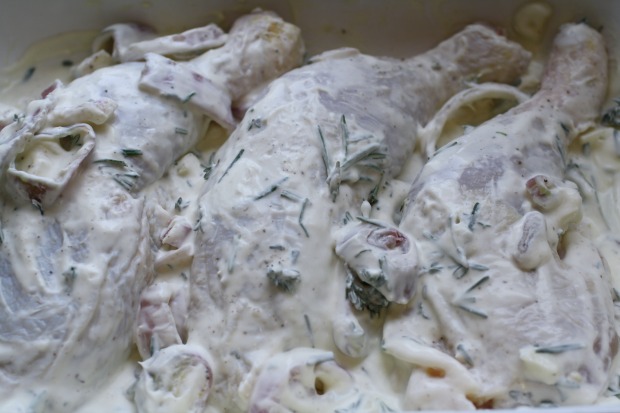 Homey Crème Fraîche Baked Chicken
serves 4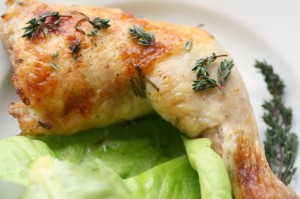 INGREDIENTS
4 whole chicken legs or chicken breasts, skin-on and bone-in
Sea salt and freshly cracked black pepper
1 cup of crème fraîche
1 large shallot, roughly chopped
4 cloves of garlic, barely chopped
The leaves from 2 sprigs of rosemary
2 tablespoons of fresh thyme leaves
1 tablespoon of olive oil
METHOD
Salt and pepper all sides of the chicken.  In a baking dish that will hold the chicken in a single layer, toss together the crème fraîche, shallot, garlic, rosemary, and thyme, and season the marinade with salt and pepper.  Add the chicken and toss, making sure the crème fraîche gets all over every bit of the chicken.  Cover with plastic wrap and refrigerate overnight.
Preheat the oven to 375 F.  Lightly grease a rimmed baking sheet.  Turn the chicken over in the marinade once last time to coat thoroughly, and place in a single layer on the baking sheet.  Drizzle with olive oil.  Bake 30 minutes (a little longer if using chicken breasts) until the internal temperature is 150 F.  Then crank up the oven to 500 F and bake until the skin puffs up and turns golden brown, about 5 more minutes.  Serve with a light green salad and baguette.
print this recipe