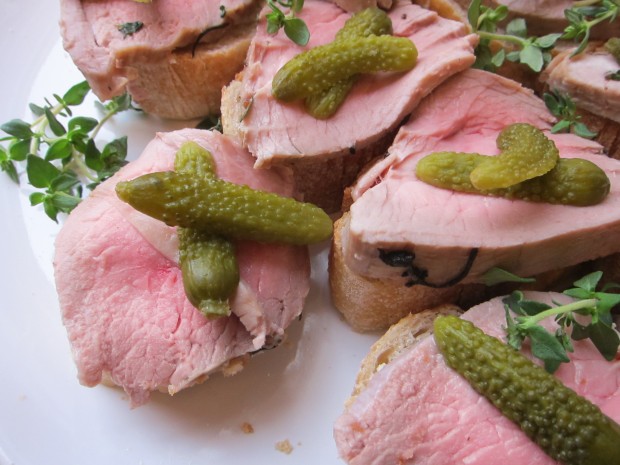 Mr. English and I have left our apartment in London.  We have a few weeks between jobs, and I feel like a real literary heroine from the late nineteenth century, on a true European tour.  But before we left our flat, we had some assets to divest, and they had to be divested appropriately.
Over the course of the last three years, we have bought, and received, an extraordinarily substantial amount of wine.  Engagement gifts.  Wedding gifts.  Christmas gifts from the office.  Gifts from Mr. English's family as they want abroad and wanted to bring us back a taste of wherever.  Gifts for dinner parties.  Gifts we bought for other people's dinner parties that we forgot to take with us and remembered only once we were on the Tube.  You get the picture.  We had a stash, and we weren't going to pay duties to ship it across the sea and into a giant pile in our new New York apartment.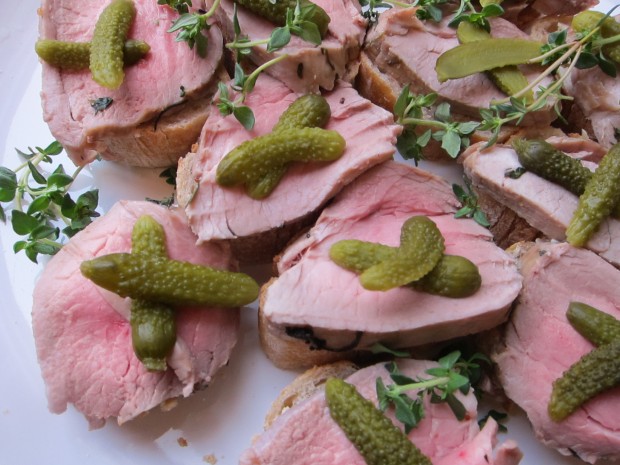 So we invited some close friends for a Sips and Bites party.  I had absolutely no kitchen equipment in the house except a beat up old cookie sheet I got from Publix eight years ago that was going in the trash anyway.  Service would be on paper and plastic.  So everything had to be super-simple.  Maille, my favorite French mustard and pickle company, had gifted me with some of my favorite jars to develop into recipes.  It was my last assignment to complete before I headed off on the holiday of a lifetime.  But they had to be really easy, because all I had was the Publix baking sheet and the mustard and pickles!
Here's the first recipe, which is a spin on the classic French sandwich the jambon-beurre, just in time for July 4th.  The following three recipes I'll be doing over the course of the summer, so stay tuned!
The jambon-beurre is not intuitive back home in America.  The idea of buttering ham may seem a little over the top.  But don't think of the butter as an extra—think of it as an ingredient.  Good, sweet cream butter in a thick enough layer to counteract the salty and sometimes smoky attitude of the ham.  It's a perfect marriage.  Served on baguette, it is so good and Chanel-suit classic.  But what I also love is the French tradition of pairing any kind of charcuterie, be it salami (rosette de Lyon!) or rillettes or terrine, with cornichons.  The acidic twang of the little pickles smashes through the decadence and gaminess of the meat—and, in this case, the richness of the butter.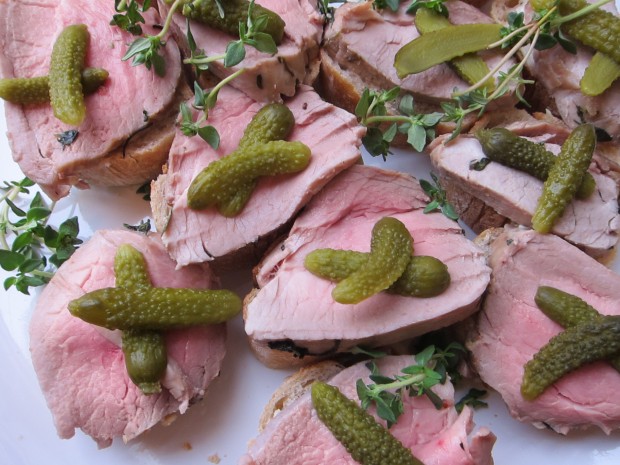 Here's my little party spin, which would make a fantastic something to nibble on while you get everything on and off the grill on Friday.  Instead of using ham in the charcuterie sense, I simply roast a pork tenderloin (I used olive oil, salt, pepper, and fresh thyme, but you could change up the herbs, used dried herbes de Provence, or even use Maille wholegrain mustard on the outside) until it is juicy and tender, and then thinly slice it.  You could either do this ahead in the oven while your grill is warming up, or you could do it on the grill itself which would add a fabulous depth of flavor—just cook the pork until the internal temperature reaches 145 degrees F, then let it rest for 10 minutes.
I cut a baguette into rounds slightly thicker than the ham.  Because the diameter of the baguette and the tenderloin are nearly identical, they make perfect little tartines.  I spread the baguette rounds with butter, lay on a slice of the pork, and then topped with a Maille cornichon, halved and crossed on top.
I have to say, I was not disappointed.  These jambon-beurre-cornichons flew off the (plastic) tray in minutes.  I had mine with a little trickle of crème de pêche topped with sparkling water.  I will miss my water kirs in New York!  Bon app, and Happy Independence Day from a long ways away!
Maille cornichons are available in the US here.
Mini Jambon Beurre Cornichon Tartines
serves 10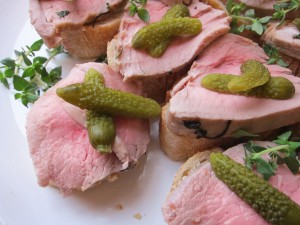 INGREDIENTS
1 400g pork tenderloin
1-2 teaspoons olive oil
Fresh thyme and rosemary
1 baguette, sliced into thinnish rounds
Unsalted butter to taste, room temperature
About 20 Maille cornichons, halved lengthwise (you'll need the same amount as baguette slices, which will depend on your baguette and the thickness of your slices!)
METHOD
Preheat the oven to 425 degrees F.  Pat the pork dry with paper towel and season liberally with salt and pepper.  Rub all over with olive oil, and pick the leaves from the herbs and lightly dress them in olive oil as well.  Arrange the pork on a parchment-lined rimmed baking sheet and top with the herbs.  Bake for 15 to 20 minutes, until the internal temperature reaches 145 degrees F.  Allow to rest 10 minutes, and then slice thinly.
To assemble the tartines, smear each baguette round with butter and top with a slice of pork and two cornichon halves, crossed over each other.  Arrange on a platter and serve!
print this recipe