Get the whole story at Serious Eats.
This is an unusual dish that takes its cue from the traditional Italian cantaloupe and prosciutto. Bite-size balls of madras watermelon and cantaloupe are matched by tiny round bocconcini mozzarella. These three are tossed with a bright, heady rosewater vinaigrette, punctuated with chopped baby arugula, and topped with optional crispy slabs of prosciutto. Ham and melon will never be the same!
Melon and Mozzarella Salad with Rosewater Vinaigrette and Crisp Prosciutto
serves 4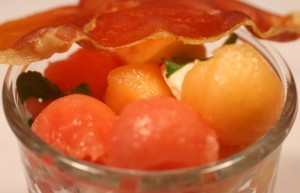 Ingredients


4 thin slices prosciutto


1/8 watermelon


1/2 cantaloupe


1 3/4 ounces bocconcini mozzarella


1/3 cup arugula, lightly chopped


2 tablespoons light olive oil


1 tablespoon Champagne vinegar


1 tablespoon rose water


Salt and pepper


1/2 cup sugar (optional)


1 1/2 teaspoons dried roses (optional)


1 bottle rosé wine, lightly chilled


About 6 splashes of rosewater


Procedure
Begin by crisping the prosciutto. While the oven preheats to 350 degrees F, lay the prosciutto, keeping it as whole as possible, on a baking sheet. Bake for about 16 minutes, until the ham is thoroughly crisp. It may take less or more time, depending on your oven and on the thinness of the meat, so check it every now and again. Once done, set aside to cool.
Then prepare the melons. Use a melon baller to carve out balls of melon the same size as the bite-size bocconcini balls.
Toss the balls of watermelon and cantaloupe, along with the balls of mozzarella, in a large bowl with the arugula.
Make the dressing by simply combining the olive oil, champagne vinegar, rosewater, salt, and pepper in a jar. Screw on the lid, and give the dressing a good shake. Dress the salad lightly; you may not use all the dressing. Toss everything together.
print this recipe