Olive Ratatouille with Harissa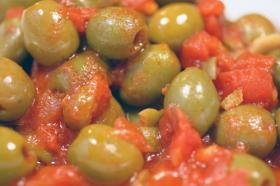 Ingredients


3 5.5-ounce (156-gram) jars Manzanilla Spanish olives (pitted, unstuffed)


1 1⁄2 tablespoons olive oil


1 tablespoon tomato paste


1-2 teaspoons harissa


2 bay leaves


Zest 1⁄4-1/3 lemon


2 cloves garlic, sliced


1 14.5-ounce can petite diced tomatoes, partially drained


Salt and pepper


Procedure
Prepare the olives by boiling two medium saucepots half full of water. Drain and rinse the olives, and then put them into the first pot of boiling water for 2- 3 minutes. Drain. Then put the olives into the second pot of boiling water for 2-3 minutes. Drain. This removes a lot of the over-salinity of the olives.
In a medium saucepot, heat the olive oil over medium-low heat. Add the olives, tomato paste, harissa (use 1 teaspoon for good flavor, 2 teaspoons for good heat), bay leaves, lemon zest, and sliced garlic. Add a most-drained can of petite diced tomatoes, season with salt and pepper, and stir.
Cook on medium-low heat, uncovered, for 30 minutes. At the end of the cooking time, raise the heat to medium-high to boil off some excess liquid for 1 or 2 minutes.  Serve with baguette.
print this recipe