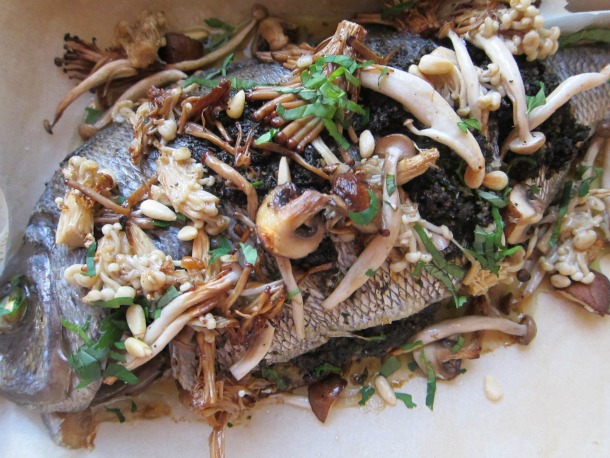 My husband and I have a favorite restaurant in London that absolutely no one knows about.  Except the locals and regulars we see when we are there.  But our 'set', so to speak, has never heard of it.  We ferry over very special ones when we feel like sharing.
Why do we love it?  Its completely unpretentious location?  Well, frankly, I wouldn't mind if that improved.  The otherworldly amaretto sours (yes, I said amaretto sours) made with the fresh juice of an entire lemon?  That's definitely part of it.  But actually, it is what I already mentioned: sharing.
The menu changes daily, and there's only about three or four appetizers, mains, and desserts to choose from—all seasonal and fabulous—on the printed paper menu.  But the secret is to look up to the chalkboard on the wall.  I never let us arrive after 8, or we risk the dreaded chalk line through one of the specials—the menu equivalent of the chalk outline of a murder.  You can see what was there, but now it's gone.  Shudder.
The thing that makes it so special is, all the chalkboard items are made to share.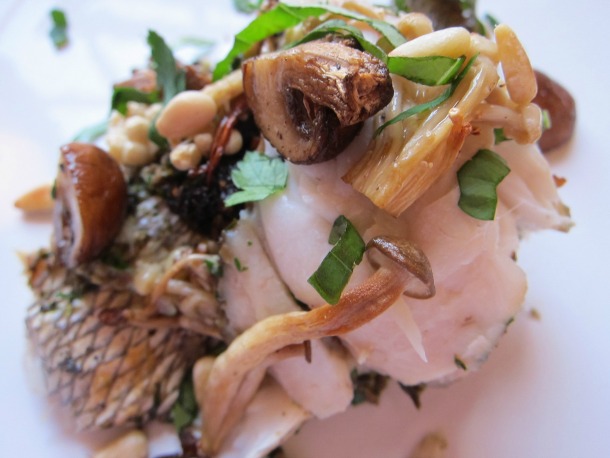 Our favorite is the slow-cooked lamb shoulder for five, which comes in a cast iron pot, still bubbling, and a second cast-iron tray full of Boulangère potatoes.  There are two big spoons, and that's it.  You serve yourself.  Firsts, seconds, more often than not thirds and fourths, friends trading pieces of lamb, and scraping at the corner of the potato dish.  There's the sea bass acqua pazza or steak-frites for two to the three with Béarnaise. I know it seems conflicting, to want to go out so that you can eat the way you do at home, but I just love it.  It feels more convivial than any other meal I've ever had.
And that was the inspiration behind this fish.  Even stranger to make a meal to imitate a restaurant that imitates the home, but there you have it.  A bream or a bass, big enough for two, stuffed with a simple mushroom-truffle pesto and topped with crispy broiled wild mushrooms.  The great thing about cooking a whole fish is that you can't serve it in anything other than the pan in which it was cooked.  So, it has that feel of our secret place.  Bring it to the table, and Mr. English and I just paw at it with our forks, taking pieces, and losing track of how many servings it's been, insisting the other take more.  And I love the curious juxtaposition of fish with such an earthy ingredient as a mushroom.  It makes for a terrific contrast of texture and flavor.  There's something cementing about a meal that is made for two and made to be shared.  I like the directive.  Eat and be together now.
I'm just doing what the fish tells me to do.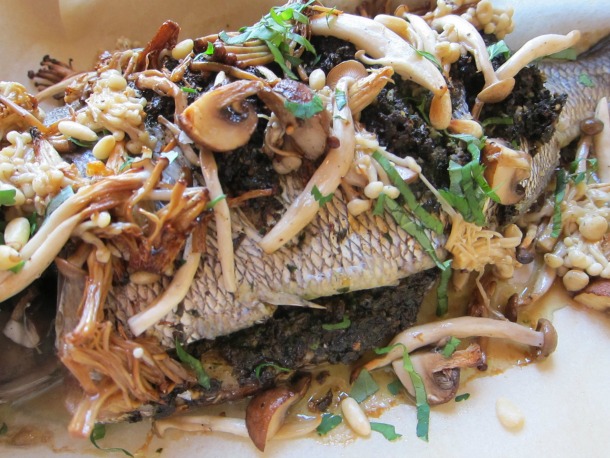 Just a note to say you can also make the mushroom-truffle pesto and serve it on toasts, or toss it with warm fresh fettuccine.  Yum.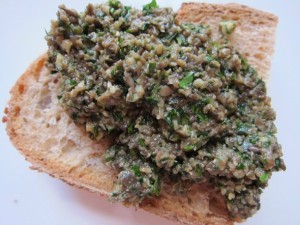 Whole Roast Fish for Two with Mushroom-Truffle Pesto and Crispy Roasted Wild Mushrooms
serves 2 to 3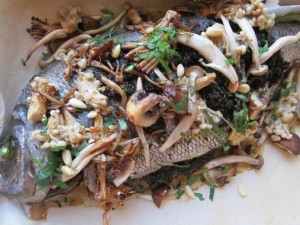 INGREDIENTS
14 ounces chestnut or cremini mushrooms, thinly sliced
1 tablespoon butter
Salt and pepper
2 cloves garlic, chopped
2 jarred black truffles
1/4 cup sunflower oil, plus extra for drizzling, plus 1 tablespoon
1/2 cup basil
1/2 cup parsley
2 tablespoons toasted pine nuts, plus more for garnish
1 whole 2-pound sea bass or sea bream, gills, guts, scales, and fins removed
7 ounces mixed wild mushrooms
METHOD
In a wide sauté pan, melt the butter over high heat and add the mushrooms.  Season with salt and pepper and cook, stirring often, until the mushrooms have released all of their liquid and the pan has just gone dry.  Add the garlic, and sauté another minute until fragrant.  Set aside to cool completely.
In a food processor, add the cooled mushroom and garlic mixture, the truffles, the oil, the basil, the parsley, and the pine nuts.  Blitz until almost smooth—you want it delicate, but still with a bit of texture.
Preheat the oven to 400 degrees F.  Season the fish inside and out with salt and pepper.  Using a very sharp knife, cut three or four slits at angle through the flesh on each side of the fish to the bone.  Stuff these slits with the mushroom pesto, and then spoon the rest into cavity.  Rub the outside with just a drizzle of oil.  Place in a parchment-lined baking dish, and cook until the fish is just done, about 35 minutes.
While the fish is resting, turn the oven up to 475 degrees F.  Toss the wild mushrooms with 1 tablespoon of oil, salt, and pepper.  Place on a parchment-lined baking sheet, and roast until crisp, about 5 minutes.  Spoon the roasted mushrooms and a few extra pine nuts over the fish, and serve.  Drizzle with truffle oil if you're feeling decadent.
print this recipe