scroll down for these picnic recipes…
Provencal "Soupe au Pistou" Pasta
Pan Bagnat
Watermelon with Rose and Raspberries
Oh, the great outdoors. The wide open country, the rolling hills, the heady blossoms of the early summer flowers…
I'm a city girl. Wide open country…agoraphobia! Rolling hills…I get seasick thinking of amber waves of grain. And flowers? Bunkers for kamikaze bees.
Now that my work is done for the summer, I have been participating altogether unseemingly frequently in, what I have learned to be, an English pastime as sacred as cricket and drinking Pimm's: the picnic. Interestingly, I've found that one also watches cricket and drinks Pimm's while on a picnic, so really the whole affair avalanches into a sacred ritual.
You may not know this, but my boyfriend is a zoologist here in Oxford. Thus, we see the concept of "picnic" from rather disparate angles. When I, the literature student and writer, think of an English picnic, I think of Elizabeth Bennett in Pride and Prejudice, walking through the emerald English countryside, stopping for an apple just one mile shy of Pemberley. The green hills are plush as a penthouse carpet, and the cool indoors, replete with bathroom and rose-scented water, are just a stone's throw off in the distance. When a zoologist thinks of an English picnic, however, he considers the offhand possibility of discovering a verminous new species somewhere in the thorny undergrowth.
Chris planned the picnic with scientific accuracy. I, naturally, would take on the food, and he got a car, scouted out the field, and arrived romantically with a kiss. We drove to the site and I stifled the New Yorker in me: the grass was thigh high. As I scaled the splintering old wooden fence, I could barely hear the warnings: "Watch those thorns!" I smacked a rogue ant that shimmied up my leg. Fresh! "Careful, Kerry, those are stinging nettles!" Stinging nettles? I thought the kamikaze bees would be the only Axis powers in the warzone. There I was—an American abroad, hacking through a jungle, ducking enemy fire. Typical.
When I finally arrived at the spot, I looked around. Grass, grass everywhere, and not a place to sit. I threw my blanket like a fisherman's net over some spindly green leaves, and with a proud chin up, plopped down…as a thorn sank fatally into my derriere. I yelped, but then smiled lovingly and offered Chris some Provencal "Soupe au Pistou" Pasta and water spiked with elderflower and mint. I gobbled down my lunch as quickly as I could, and looked up at him expectantly. "Come on, I'll take you home."
Back at home, I reconsidered and compromised: I would only picnic on cricket pitches, where the grass is sure to be mown and a bathroom lurks just behind that ominous bunch of trees. I have since been on two other quite successful outings. I always did love to picnic in Central Park with sandwiches from Yura, or to barbeque salmon on the beach, and I just had to find the right way to do it across the pond.
This week's recipes are perfect for packing to take along with you, be it to Central Park's civilization or the uncultivated warzones of the wild. As ever, they are cheekily Francophile. Provencal "Soupe au Pistou" Pasta is a twist on the Provencal classic soupe au pistou, a vegetarian broth laden with petite green vegetables and spiked with basil pistou. Pan Bagnat is a southern tradition—salade Nicoise on bread and the best tuna fish sandwich you'll ever have. And the all-American picnic staple, watermelon, is reset, jeweled with ruby raspberries and washed in rose water.
So pack up that Citron Pressé and get going. Just be careful where you sit…
Pan Bagnat
1 loaf of ciabatta, halved horizontally
1 head of green little gem lettuce, washed and cored, leaves separated
1 half of an English cucumber, thinly sliced
200 grams of albacore or yellowfin tuna packed in olive oil
200 grams of albacore or yellowfin tuna packed in water
¼ cup of mayonnaise
½ cup of pitted olives, preferably nicoise, divided and roughly chopped
2 tablespoons of olive oil
1 tablespoon of lemon juice
Zest of ½ lemon
1 tablespoon of capers
½ teaspoon of anchovy paste
10 chives, snipped
Black pepper
Toast the two ciabatta halves in a very hot oven for 3 minutes, or until the bread hardens a bit, but does not turn golden.
Prepare the olive mayonnaise by blending together the lemon zest, ¼ cup of olives, and the mayonnaise in a mini food processor.
Drain the tuna, and combine with the olive mayonnaise.
For the dressing, combine the anchovy paste, olive oil, lemon juice, black pepper, chives, capers, and the remaining ¼ cup of olives.
To assemble the sandwich, press the tuna onto the bottom half of the ciabatta. Then line up the lettuce leaves and then the cucumbers on top. Pour the dressing over, and top with the bread lid.
Watermelon with Rose and Raspberries
¼ seedless watermelon taken off the rind, cut into ¼-inch slices
1 ½ tablespoons of rosewater
A handful of raspberries
Arrange the watermelon in a kind of zig-zag pattern with the points facing up. You could also use a melon baller and mix the watermelon balls with the raspberries.
Spoon the rosewater evenly over the watermelon, and scatter the raspberries over the top.
Garnish with pink or red edible rose petals, or a small edible rose amidst the watermelon balls.
BON APP!
Provencal "Soupe au Pistou" Pasta
serves 4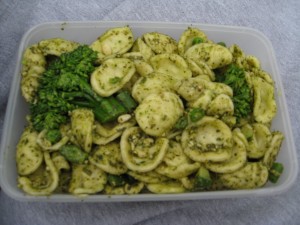 Ingredients


The florets of 125 grams of baby broccoli (about 10 stems, or 1 ¼ cup of florets)


½ cup of petite diced asparagus tips (8 stems)


Full ½ cup packed of petite diced zucchini (½ of a large zucchini)


½ cup of petite diced haricots verts


¼ cup of fresh, shelled peas


500 grams of orechiette pasta


1 cup of fresh green pesto


Procedure


Set two pots of water to boil, and salt them when they begin to bubble.


Cook the pasta according to package directions to al dente in one pot.


In the other pot, blanch the vegetables, all at once for 1-2 minutes, and then cool them immediately in an ice bath or under very cold running water.


Toss the vegetables, pasta, and pesto sauce together. Serve hot, warm, or cold.


print this recipe