If you've been reading my Serious Eats columns, you've probably been seeing this in a lot of posts.  I love microgreens: they're like the powersuit of a home cook.  Use some in a dish and you look instantly professional.  They're not cheap, about $6 at my local Whole Foods, but they're perfect for something special.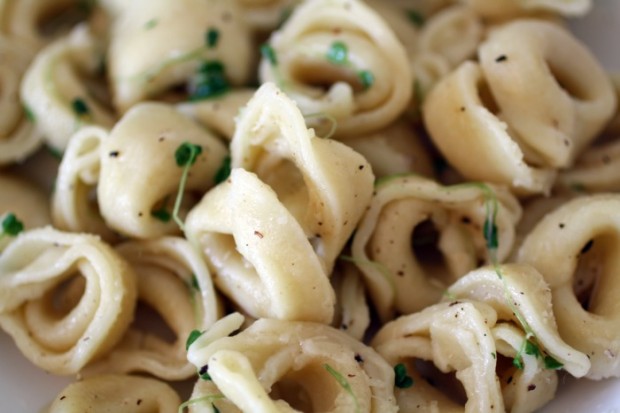 Imagine the peppery bite of arugula turned lilliputian–not only in size, but in taste.  A little puppy's bark of a bite.  All tangled up in green lacy tendrils.  Delicate, gourmet, lovely, and, effortless.  Toss them into an baby arugula salad tossed with sea salt, olive oil, and lemon juice for a contrast of texture.  Top a tartine, or a steak, or a piece of fish.  I personally love microarugula tossed into pasta, either something like a simple Cacio e Pepe, or like the no-recipe recipe for tortellini I've included here.  I toss cheese tortellini with a touch of butter, Parmesan, Pecorino, salt, and pepper.  Toss in these microarugula tendrils, and the simplest thing suddenly seems dressy, sophisticated, houseguest-approprite, and dare I say, even healthy?
Also try microarugula in Tapenade and Warm Goat Cheese Tartines and Steak au Poivre with Truffled Microarugula.
Tortellini with Cheese, Microarugula, and Pepper
this no-recipe recipe serves 1 to 2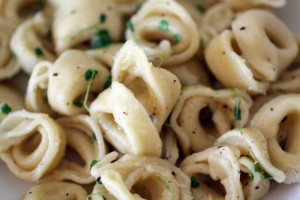 Ingredients


10 ounces cheese tortellini


1 to 2 teaspoons good unsalted butter


1 to 2 tablespoons finely grated Parmesan cheese


1 to 2 tablespoons finely grated Pecorino cheese


Sea salt


Lots of freshly ground black pepper


1 ounce or 1 handful Microarugula, barely chopped


Procedure
Boil a pot of water and salt it.  Drop in the tortellini from fresh or frozen, and cook on high heat just until the tortellinis float to the top of the water.  Drain.
In the tortellini pot, melt the butter.  Toss in the tortellini, cheese, touch of salt, lots of pepper, and the microarugula.  Toss to combine, and serve!
print this recipe