Sorry about the delay with Working Girl Dinners!  I've been having some trouble getting last week's Veggie Chili on YouTube, but this week's recipe is definitely worth the wait.
I have discovered the greatest ingredient of all time.  Ever.  Hands down.  Bar none.  GINGER JAM.  Go out and buy it right now.  It smells like the sharp, spicy pickled ginger that comes with sushi, but it has all the sweetness of jam, and it's thick, and sweet, and spicy, and fragrant.  It's so good.
What I love about it most is that when you cook with it, as with this salmon that has ginger jam, salty soy sauce, and nutty, heady toasted sesame oil, is that when you put it in that super hot oven, it bubbles up and caramelizes and gets even sweeter and more delicious.  It basically sears your fish for you, without your having to do any work at the stove.
I love this recipe.  I just mix together three ingredients, slather it over the salmon, toss some sweet, tender, crisp sugarsnap peas alongside, and 15 minutes later, my house smells like upscale hibachi, and I have I think my favorite Working Girl Dinner ever, with no clean up.  I'm serious–you have to try this.  And if you have leftover ginger jam, don't worry.  I'm so obsessed with it, that it's this month's Secret Ingredient over at Serious Eats.  I'll get you three more recipes to use up that jar (before you go out an buy another!).
Spicy-Sweet Ginger Salmon with Sugar Snap Peas
serves 2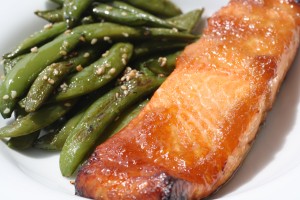 INGREDIENTS


2 tablespoons ginger jam


3 teaspoons soy sauce


2 teaspoons toasted sesame oil, plus 2 teaspoons


2 6-ounce fillets boneless, skinless salmon


½ pound sugar snap peas


1 teaspoon sesame seeds


Salt


PROCEDURE
Preheat the oven to 450°F.  Cover a small rimmed baking sheet in foil, and lightly spray with cooking spray.  In a small bowl, whisk together ginger jam, soy sauce, and 2 teaspoons toasted sesame oil.  Rub it all over the salmon, and place the salmon on the baking sheet.  Toss the sugar snap peas with the rest of the sesame oil, the sesame seeds, and a touch of salt.  Scatter next to the salmon on the baking sheet.  Bake 13-18 minutes, in the center of the oven, until the sugar snaps wrinkle lightly and turn golden around the edges, and the salmon just has some golden edges.  Put on the broiler.  Take the sugar snaps off the baking sheet, and set aside.  Broil the salmon on the upper rack of the oven, just under the broiler, until the jam starts to bubble—about 3 minutes.
Note
You can easily make this more more people.  Just use a bigger baking sheet, and you can cook for up to 4 or even 6.
print this recipe