It's easy to fall into the trap of cooking pasta during the week. It's fast, it's easy, and it's good. But sometimes, after a long day, don't you just want to tear into a piece of meat? Like, a serious roast?
This recipe is a bit genius, if I do say so myself. By using a pork tenderloin, you're starting with a lean, relatively inexpensive cut of meat that's full of flavor. I roll it in salt, pepper, some fresh thyme leaves (or you could use a bit less of dried if that's what you have), and ginger preserves. That's it.
Just place the pork in a baking dish, and scatter some baby zucchini around it. Bake it, and watch as the pork develops this gorgeous zingy-sweet crust all over the outside.
No searing. No making a side dish. The pork and preserves even make their own pan sauce. Just leave it in the oven for 15 or 20 minutes, slice it up, and serve. You have a roast pork dinner for two, inspired by honey-roast ham, but with so much more attitude. I recommend a little bit of salad and/or rustic wheat bread to go with.
As an aside, ginger preserves are one of my favorite ingredients. You may never even notice them in the supermarket, but they're readily available; I use them in this pork, on salmon with soy sauce, in sesame noodles, on take-out inspired shrimp, and on cheese boards. It's a great way to add the sweetness and texture of honey with the zing of ginger in just one ingredient.
From my weekly column Dinner for Two on Serious Eats.  Check it out every Friday!
Gingerly Roast Pork with Thyme
serves 2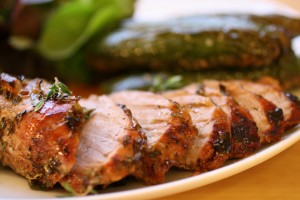 INGREDIENTS
1 pork tenderloin
Sea salt
Freshly cracked black pepper
1 tablespoon chopped fresh thyme
3 tablespoons ginger preserves
A drizzle of olive oil
6 baby zucchini
PROCEDURE
Position the oven rack in the center of the oven, and preheat the oven to 450 degrees F.  Season the pork with salt and pepper, and roll in the fresh thyme so it's seasoned all over.  Rub the ginger preserves all over the meat.  Lightly grease a ceramic baking dish with olive oil, and place the pork in the dish.  If any ginger preserves have fallen off the meat, pile them up on top of the pork, and drizzle lightly with olive oil.  Toss the zucchini with a light drizzle of olive and a pinch of salt, and scatter around the baking dish.
Bake until the center of the pork reaches 140 degrees F, about 15 to 18 minutes.  Turn on the broiler (leave the meat where it is), and broil just a couple of minutes until the preserves on top of the pork caramelize.  The pork should now be 145 degrees in its center.  Take the dish out of the oven, tent with foil, and let rest for 10 minutes.  Then slice the pork, spoon some of the ginger juice from the pan over the top, and serve with the roast zucchini and some lightly dressed salad and bread.
print this recipe