If you have friends coming over after work, this is what you have to make.  I know I said last week's Working Girl Dinner was my favorite, but this might be my new favorite.  I don't know!  What a hard contest.  These scallops are definitely a looker–built to impress.  And there's no reason to be scared of making seafood: you can always tell when it's done, because the scallop will turn from translucent pale pink, to opaque white.  Done!  All you do is start with some big scallops, put them in a baking dish, douse them in a paste of garlic and parsley and olive oil, and bake them.  In the meantime, while they roast, boil up some potato gnocchi (takes 2 minutes, and you know they're done when they float–pretty easy).  While the scallops are in the oven, they release all of these expensive-tasting seafoody juices that mixes with the garlic and parsley and olive oil, and then you toss the gnocchi in that sauce.  So good!  Definitely fit for company.  Plus, as a bonus, your whole house will smell like the most delicious Spanish tapas bar.  It reminds me of a simple, elegant version of my dad's favorite order at our local Spanish restaurant, which I've been frequenting since before I was born: Mariscada (or, seafood) in Green Sauce.  There is just something about the sweetness and tenderness of scallops that goes so perfectly with this strong, bright, calls-you-into-the-kitchen-from-another-room sauce.  Might be worth popping open a bottle of Cava.
Easy-Baked Garlic and Herb Scallops
serves 2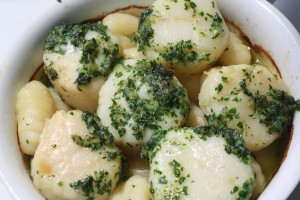 INGREDIENTS


1 pound U-10 scallops (about 6), cut in half horizontally


2 tablespoons finely chopped fresh flat-leaf parsley


4 cloves garlic, grated


2 tablespoons olive oil


Salt and pepper


9 ounces potato gnocchi


PROCEDURE
Preheat the broiler.  Bring a medium pot of water to a boil, and salt the water.
Lightly spray a baking dish with nonstick spray.  Arrange the scallops halves, touching, in a single layer.  In a small bowl, whisk together parsley, garlic, olive oil, salt, and pepper.  Pour over scallops.
Place the baking dish on a tray, and broil for 12 minutes.  Boil the gnocchi until the float—about 4 minutes.  Drain.
Lift the scallops out of the baking dish, and toss the gnocchi around in the sauce.  Place the scallops back on top, and serve.
Tip
To make this for more people, just use more baking dishes, and double the recipe!
print this recipe