I love Sunday brunch.  Either way.  See, sometimes I go out to one of those long, occasionally boozy brunches at some trendy little hotspot with friends.  I always get something salty with bacon, and get extremely indulgent.  Other times, I stay home, usually with Mr. English, and then I can't be bothered, for some reason, to expend much more effort on food on Sunday afternoons than I would have if I'd gone out.  So, Sunday has become Bruschetta Day in my house.  I toast some of yesterday's bread (one lovely side effect of living in London is that grocery stores are almost never open today), and pile it high with something or other.  Usually, it's tomatoes, that I salt for a while, and stir up with olive oil, that the bread slurps up and it's as good as any brunch place.  Sometimes, I add slivered basil and shallots.  Sometimes there's smokey mozzarella or jambon de Bayonne to drape on top.  And sometimes, I make this one, with tuna.
Canned tuna is a complicated thing.  Some part of me thinks it's really gross.  Tuna, in a can.  But sometimes I get these overwhelming cravings for it, and when I bite into it, I rush back to my seven year old self, cracking open that can of Bumblebee with my mom, making a tuna salad sandwich on oatmeal bread.  Whatever I think of the stuff, it's really good.  I make this light topping with a little bit of good French mayo (it makes a huge difference I swear!), olive oil, a drop of vinegar, shallots, and tons of fresh parsley.  Then I pile it onto toasts of baguette or boule or whatever I have lying around.  I throw a few cornichons on the side.  Salty and satisfying–plus, I don't have to get dressed and go anywhere.  What could be better?  Oh, I know.  It's cheap as chips, as they say here.  One can of tuna, feeds two people.  Bon app!
Simple Tuna Bruschetta
serves 2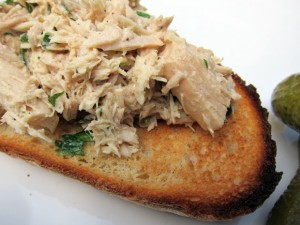 INGREDIENTS


1 5-ounce can albacore tuna in water, drained


1/2 shallot, grated


1.5 tablespoons mayonnaise


1/2 tablespoon olive oil


1/2 teaspoon cider vinegar or 1 teaspoon lemon juice


1 tablespoon fresh flat leaf parsley, roughly chopped


A touch of salt


A lot of freshly ground black pepper


4 big slices of round country bread


PROCEDURE
Preheat the broiler.
In a bowl, mix together the tuna, mayo, olive oil, vinegar or lemon juice, shallot, parsley, salt, and pepper.  Taste it, and see if you want to add any extra salt, pepper, vinegar, or lemon.  Set aside.
Arrange your bread on a baking sheet, and sit it under the broiler until it's golden brown—about 3 minutes-ish.  Flip them over, and toast the other side.
Pile the tuna on the toast, and serve!  I like a few cornichons on the side.
print this recipe