I just moved into a new apartment in London with Mr. English.  And I've been doing a lot of what I call "apartment cooking."  I don't have all my pots and pans yet, the kitchen's small, and frankly, I just want to feed us, not Cook with a capital C.  I've stocked my little pantry, and I've been referring to it every meal time as if it were the Bible.  That's how I came up with Sunday's Tuna Bruschetta, and that's how I came up with cheapskate pasta.
It's not a total original–it's something I've heard of, but never had, and never made.  It's spaghetti, with olive oil, garlic, chili, anchovy, and parsley.  While the spaghetti is boiling away, the oil is infused over the heat with the garlic, chili flakes, and anchovy paste.  Long before the pasta is done, the sauce is ready.  And then you have a spicy, salty, nutty, light pasta that you want to eat way too much of.  I've made it, including for this video, four times this week.  Last night, we finished the whole pot between the two of us.  And the other time, when we had some leftovers, Mr. English caught me red handed, standing in front of the open fridge, shoveling it cold into my mouth.  (Tastes just as good that way, you'll be happy to know).
Don't let the anchovy paste intimidate you–you won't even know it's in there, except that something in the background tastes really, really good.  And if you're having company, serve this along with some roasted whole fish.  I can't think of anything I'd rather eat right now.
Cheapskate Spaghetti
serves 2, with leftovers if you're lucky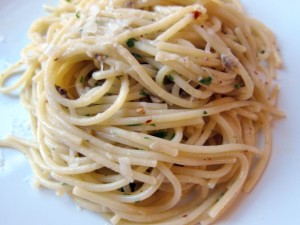 INGREDIENTS


1 pound spaghetti


1/3 cup olive oil


5 cloves garlic, grated


1 tablespoon anchovy paste


1/4 teaspoon chili flakes


Small handful of flat leaf parsley, chopped


Salt


Pepper


Parmesan


PROCEDURE
Bring a big pot of water to boil, salt it well, and drop in the spaghetti.  Stir, and cook until al dente.
Meanwhile, in a big sauté pan, heat the oil on medium heat and add the garlic, chili, and anchovy, stirring to break up the anchovy paste and spread out the garlic.  Cook until the garlic is super fragrant, but not yet brown, no more than 3 minutes.  Shut off the oil, and let it sit off to the side.
Drain the spaghetti, and toss it with the olive oil, garlic, chili, and anchovy.  Add the chopped parsley, and stir it through.  Season with salt and pepper, lightly, and top with grated Parmesan.  Serve!
print this recipe