This is one of my favorite dishes of all time.  I got a ton of friends and readers telling me that they loved the Cheapskate Spaghetti.  This is like Cheapskate Spaghetti–goes to Japan.
I was at the restaurant Basta Pasta in New York with three of my best friends.  I seem to have been the last person on earth to go there, but I'd been hearing about the place for years because they do one of those hot pasta dishes tossed in a hollow Parmesan wheel.  And those are always a show stopper.  But I didn't realize that the point of the whole place is this Japanese Italian fusion.  And before you judge pasta with sea urchin in a pink sauce, let me just tell you it is heart stopping–so special and different and wonderful and complex.
This pasta, Spaghetti with Tobiko and Herbs, is based on the pasta I had a Basta Pasta that night: spaghetti tossed with tobiko (flying fish eggs, like on the outside of your California Roll) and shiso, a Japanese herb that falls somewhere between mint and basil.  I know, it sounds coo coo for Coco Puffs crazy.  But it is kind of like a much more delicate, sweeter, fresher version of spaghetti with clam sauce.  The fish row bursts ever so slightly in your mouth, and has that unmitigated flavor of the sea.  The shiso (or in our case, the mint and basil) counters it with a tremendous garden freshness.  And the easy butter sauce is so simple and elegant and good.  Good thing I asked the waiter what was in it!  Honestly, I can't stop making this dish.  It's weird, but that's what makes it special.  And the fact that it's even cheaper and easier than everyone's favorite Cheapskate Pasta–well, that just speaks volumes.  You have to try this.  You won't be able to stop eating it, and no one will be able to believe that you made it!
Spaghetti with Tobiko and Herbs
serves 4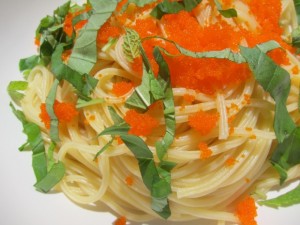 INGREDIENTS


4 tablespoons unsalted butter


1 pound spaghetti rigati (recommended: Barilla)*


½ cup clam juice


⅓ cup tobiko (flying fish roe) or masago**


⅓ cup chiffonade of shiso (or mint and basil)***


PROCEDURE
Dice the butter, and put it back in the fridge.
Cook the spaghetti in very well salted boiling water until al dente.  Reserve ½ cup of the pasta cooking water before draining.
Add the clam juice and reserved pasta water to the empty pasta pot over high heat.  Once the mixture comes to a boil, whisk in the butter, 1 cube at a time, until they are all dissolved into the sauce.  Take the pot off the heat, and toss the pasta with the sauce.  Taste for seasoning, and add salt if you want it.
You can either divvy the pasta up between 4 bowls, and divide the tobiko and herbs on top of the bowls of pasta; or you can toss the tobiko and herbs with the pasta in the pot.  Either way, serve right away!
NOTES
*I like the spaghetti rigati because each strand holds the sauce and tobiko to it.  But if you can't find it, just use regular spaghetti, like Basta Pasta does.
**This is those tiny orange fish eggs on the outside of sushi.  I buy it for $1.89 for ⅓ cup at a local Asian market, in the freezer section.  You can also try your local sushi restaurant, or the sushi counter at your supermarket.
***Shiso is an Asian herb that I can't find.  So I use a mixture of 10 basil leaves and 20 mint leaves.
print this recipe