I just made such a good dinner, I had to share it with you in time for you back home to make it tonight.  I love Brussels sprouts.  This is such a simple dish: spaghetti tossed with shaved fresh Brussels sprouts and nutty brown butter, under a shower of Parm.  Some toasted pine nuts would be great too, but I'm fresh out.  This is nutty and different, and light, and really good.  Plus, it's ready in the time it takes to cook the pasta.  Bon app!
Lickety Split Spaghetti with Brussels Sprouts and Brown Butter
serves 4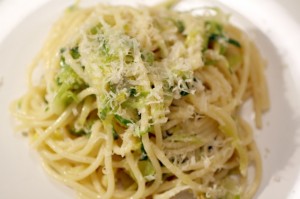 INGREDIENTS
1 pound spaghetti
1 pound Brussels sprouts
2 tablespoons olive oil
Sea salt
Freshly cracked black pepper
4 tablespoons unsalted butter
Really good Parm
PROCEDURE
Bring a large pot of salted water to the boil, and cook the spaghetti until al dente.  Be sure to reserve 2 cups of pasta water before draining.
While the pasta cooks, slice the Brussels sprouts by feeding them through a food processor fitted with a slicing attachment (mine came with a thick and a thin side—I used the thick side).
Heat a wide nonstick skillet over medium-high heat.  Add the olive oil.  Add the Brussels sprouts, and season with salt and pepper.  Sauté over medium heat for 4 to 5 minutes, until the sprouts are just tender.  Set aside.
Make sure you reserve your pasta water, then drain the spaghetti.  Put the pasta pot back on medium heat, and let any excess water evaporate.  Add the butter, and cook until the butter stops foaming and the butter solids turn a nutty hazelnut brown.  Take the pan off the heat, and add 1 cup of pasta water.  Add the spaghetti and the Brussels sprouts.  Toss.  Add more water to moisten if needed.  Season with salt and pepper one last time, and serve with fresh grated Parm on the side.
print this recipe