Mr. English and I are obsessed with Brussels sprouts–little villains.  They look and act all tough, and give themselves a bad reputation.  But I think you'll find, Brussels sprouts are fast becoming everyone's secret favorite vegetable.
I just developed this last weekend as I was testing Thanksgiving recipe for Serious Eats, and I wanted something for us to eat along with them at our weekly Sunday night dinner (when I have a huge recipe-testing weekend, we invite friends over to help clear away the evidence).  Our Thanksgiving this year will only be three people (sad old London!), but I am definitely, definitely making this.
I simply run the Brussels sprouts through the slicer on the food processor (a process of which I have become inordinately fond) and toss them with olive oil, salt, and pepper.  Then, I spread them into as thin a layer as I can, and roast them at 400 to 425 degrees just until their edges start to tan, and go all bronzed and crisp–about 6 minutes.  Then, while they're hot, I add the key splash of cider vinegar.  They are crisp, salty, tangy, luscious.  Killer, killer side dish!
Warm Roasted Shredded Brussels Sprout Salad
serves 4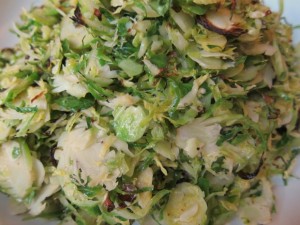 INGREDIENTS
1 pound of Brussels sprouts, shredded
2 tablespoons olive oil
Salt and pepper
1 tablespoon cider vinegar
PROCEDURE
Preheat the oven to a nicely hot 400 degrees.  Toss the sprouts, oil, salt, and pepper together in a large bowl.  Spread the sprouts in an even layer on a parchment-lined baking sheet, and roast just until the edges start to toast.  You want the sprouts to keep their vibrant green.  About 6 minutes.
While still hot, toss the vinegar into the sprouts.  Serve right away.  I may toss a few toasted flaked almonds in dress it up for Thanksgiving.
print this recipe