Growing up in a French-American family, Thanksgiving was always a happy confusion.  Apple cider sorbet with our pumpkin pie.  Gratin Dauphinois instead of mashed potatoes.  Haricots verts instead of regular, sturdy green beans.  And we always, whether it's considered French or not, start the night with a champagne toast and a list of what we are each thankful for.
I have always been thankful for the transatlantic jumble that is that meal.  Because part of what makes Thanksgiving American is that we come from so many different places, to be together with the same ideals.  So it's very appropriate that we all sit down to some version of turkey and potatoes and pie, but the accent the turkey has is decidedly different across the households that stitched together form our country.
I have to admit, usually it's our side dishes that are francophone.  Our turkey is pretty is standard: herb-stuffed and butter-rubbed.  So this year, I am inspired by French takes on turkey.  As our celebration this year here in London will only be three people, we don't need a giant bird.  So I'm concentrating on my favorite part: the legs.  I was blown away by Suzanne Goin's turkey leg confit in this month's Bon Appetit.  And I came up with this version of turkey leg "coq" au vin.
I brown off the drumsticks (two will do for four people), and then the little cubes of pancetta.  In go the mushrooms—I use thickly cut Portobello for texture.  Then whole shallots (who can be bothered with pearl onions when there's a whole holiday to deal with?), slivered garlic, fresh thyme.  Some flour, some cognac, some wine, and some stock later, and the turkey legs blip away in their little bath until the meat falls off the bone three hours later.
The sauce is thick, and sweet, and savory in that way good coq au vin is.  I serve it with mashed potatoes or buttered gnocchi and a big green salad or my warm roasted shredded Brussels sprouts salad.  It's definitely for a French-American Thanksgiving, but it also works wonders if, like me, you're only cooking for a few.  That gives you an excuse to experiment.  Another thing to be thankful for!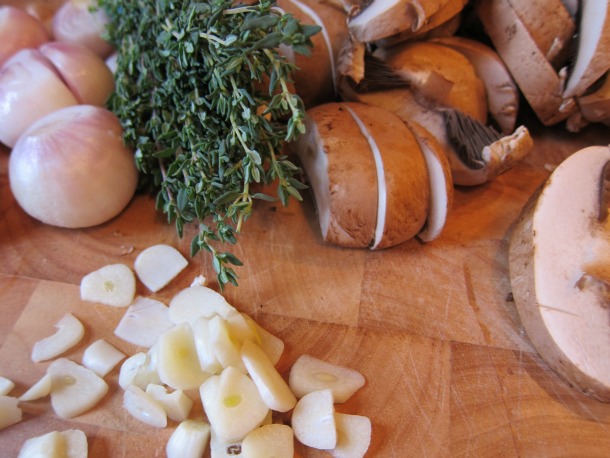 Excerpted from my weekly column French in a Flash on Serious Eats.  Bon app!
Turkey 'au Vin'
serves 4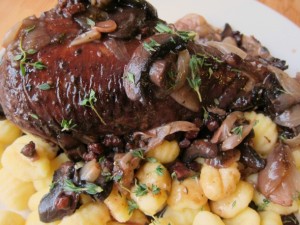 INGREDIENTS
2 tablespoons olive oil
2 turkey legs (about 3 pounds total)
Salt and pepper
3 1/2 oz pancetta cubes
9 ounces Portobello mushrooms
6 shallots, peeled and whole
2 cloves of garlic, sliced
1 tablespoon all-purpose flour
1/4 cup Cognac
2 cups dry red wine
1 cup low-sodium chicken broth
10 sprigs of thyme, tied together with kitchen twine
PROCEDURE
In a very wide nonstick skillet or Dutch oven medium-high heat, add the olive oil.  Season the turkey legs with salt and pepper, and add them to the pan.  Brown the turkey legs on all sides.  Then remove them to a plate, and set off to the side.
Add the pancetta to the hot oil, and cook until just crisp.  Remove the pancetta with a slotted spoon, and place next to the turkey on the plate off to the side.  Add the mushrooms to the hot oil and cook until they dark and shrunken down—just a couple of minutes.  Add the garlic and shallots and stir through for about 15 seconds.  Then add the flour, and stir to coat everything in the pan.  Then, add the Cognac, and stir it into the vegetables and flour.  Then add the turkey and pancetta back into the pot, and follow with the red wine, chicken broth, and little packet of fresh thyme.  Season the pot with salt and pepper, and bring the liquid to a boil.  Then clamp a lid on the top, and simmer everything together for 3 to 4 hours.  After that, take the lid off and continue to simmer until the sauce coats the back of a spoon.  Serve with mashed potatoes, or buttered gnocchi or egg noodles.
print this recipe