When I was growing up, there was an Italian dive half a block away on First Avenue.  The front was a pizza parlor, but to locals, the lesser-known back was Little Italy moved uptown (New York has long been a city of hidden hotspots), and all the families from our building would plunge into bowls of New York Italian staples, all in a sort of Diluvian flood of marinara.  I can't remember what it was called, and it's not there anymore, which is a shame because their baked ziti was something else.  But I'll always remember it because it was the first place I tried one of my great food favorites: Pasta e Fagioli, that thick tomatoey soup studded with ditalini, creamy white beans, and that little hint of pancetta floating through the broth.  It's so simple and honest.  It fills you up and it tastes good.  And that's that.
I like making comfort food, especially nostalgic comfort food, for me and Mr. English during the week, just because whatever trauma happened at the office that day is washed down with a spoonful of dinner and a swig of wine.  So here is my fast, easy take on Pasta e Fagioli à la First Avenue in 1989.
I start with a mirepoix, which is just a fancy way of saying some chopped onion, carrot, and celery, which is a great start to any soup.  But if you don't feel like buying veggies or chopping, you can actually leave this out.  It gives a nice vegetal crunch to the soup, but because we are using bought broth, you don't need the extra flavor if you want to make this an even quicker dinner.  Then, simply pour in some bought marinara sauce (You know they were doing this back on First Avenue.  The stuff was everywhere!) and some vegetable or chicken broth, and bring to a boil.  Next, add canned cannellini beans for that traditional creamy heartiness, and instead of ditalini, those tiny little pasta rings, I add prosciutto- or pancetta-stuffed baby tortellini.  This does two things.  First, I don't have to add and render pancetta into the soup.  All the smoky ham flavor comes from the all-purpose, cheesy, meaty stuffing of my baby tortellini.  And second, it gives this soup that really thick, stew-like quality that is its signature.  Then, if I have some around, I stir in some Parm or sliced up prosciutto.  But at its barest bones, this soup is four ingredients and five minutes to backroom New York hearty happiness.  Perfect for the middle of the week, and so good that even though I was out for dinner last night, I came home and had a bowl at eleven o'clock just because I could.  I couldn't resist!
From my weekly column Dinner for Two on Serious Eats.  Check it out every Friday!
Hearty Tortellini Pasta e Fagioli
serves 2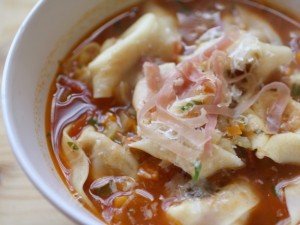 INGREDIENTS
1 tablespoon olive oil
1 small carrot, chopped (optional)
2 small celery stalks, chopped (optional)
1/2 small onion, chopped (optional)
Salt and pepper
2 cups tomato basil or marinara sauce
4 cups vegetable or chicken broth
1 14.5-ounce can of cannellini beans
1 pound any ham tortellini, such as pancetta or prosciutto, preferably mini-sized
Grated Parmesan to garnish
Thinly sliced prosciutto to garnish (optional)
PROCEDURE
Heat the oil in a stockpot over medium heat and add the vegetables.  Season with salt and pepper, and stir often until the onion is translucent.  Add the tomato sauce and broth, and bring to a rolling boil.  Add the beans and ham tortellini, and cover to two minutes until the tortellini are just cooked.  Ladle into bowls and top with Parmesan and prosciutto.
print this recipe