My meatball addiction knows no bounds.  If made correctly, meatballs are actually so much lighter than MEAT.  Pillowy, more delicate, easier to portion-adjust.  And so versatile and easy to throw together.
This is my "Tuscan-inspired" meatball ragu over polenta.  Rustic and comforting.  Full of the woodsy twang of rosemary and the earthy punch of porcini mushrooms.  And it couldn't be easier.  Just throw all the meatball ingredients in a bowl–lean turkey, fresh rosemary, dried porcini mushrooms, Pecorino Romano cheese–and gently mix together and form into balls.  Then, the meatballs are simmered in a gussied-up bought tomato sauce, and poured over creamy quick-cooking polenta.  It's comforting and hearty, but because of the way we cook the polenta and the turkey (as opposed to beef) in the meatballs, it's actually really light.  I serve it with a big green salad.
From my weekly column Dinner for Two on
Serious Eats
.  Check it out every Friday!
Turkey and Porcini Meatballs with Rosemary and Polenta
serves 2 with leftovers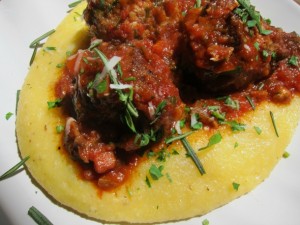 INGREDIENTS
25 grams dried porcini mushrooms
1 pound ground dark meat turkey
1/2 egg, beaten
2 tablespoons milk
1/4 cup breadcrumbs
1/4 cup finely grated Pecorino Romano, plus 1 cup
2 stems rosemary, divided
4 tablespoons chopped flat leaf parsley, divided
3 cloves garlic, finely chopped
1 tablespoon olive oil
2 cups marinara sauce
1 cup polenta
PROCEDURE
In a small bowl, soak the porcini mushrooms in 1 cup of recently boiled water to 15 minutes.  Once the mushrooms are reconstituted, finely chop and reserve the soaking water.  Place the oven rack in the second position down from the heat source, and preheat the broiler.
In a large bowl, gently mix together half of the chopped porcini mushrooms, the turkey, egg, milk, breadcrumbs, 1/4 cup Pecorino Romano, 1 twig of rosemary (finely chopped), 2 tablespoons parsley, the garlic, and the olive oil until just combined.  Roll the mixture into 12 equal-sized balls, and place on a parchment-lined rimmed baking sheet.  Broil for 10 minutes.
Meanwhile, place the remaining mushrooms and their liquid, one whole twig of rosemary, the remaining parsley, and 2 cups of marinara sauce in a medium skillet over low heat.    Place the broiled meatballs directly in the sauce, and simmer over medium-low heat for 10 to 15 minutes, until the meatballs are cooked through and the sauce has visibly reduced to the consistency of a thick ragu.
While the meatballs are simmering, make the polenta.  Pour 1 cup of polenta into 5 cups of boiling water.  Season with salt, and whisk until thickened, but still loose enough to pour.  Whisk in 1 cup of Pecorino Romano.  To serve, spoon some polenta into the bottom of a bowl, and top with meatballs and sauce.
print this recipe