My Mémé, my grandmother, makes the most amazing
green beans
.  In France, traditionally, vegetables are "well done"–soft, supple.  And Mémé's green beans are the same–stewed with garlic and tomatoes à la Provençal until the green beans start to split at the seams and collapse into their own juices.  They are glorious.
But last weekend in London, the sun was blazing and the heat was soaring.  I wanted a summer version of Mémé's classic that wouldn't turn my kitchen into one of the inner circles of Hell.  I quickly blanched some skinny haricots verts so they were crisp and still vibrantly, verdantly green.  As they drained, I singed some finely sliced garlic in olive oil, and quickly blitzed some sweet tomatoes to a rubble.  I tossed the haricots verts with the now garlicky oil, and topped them with the fresh tomatoes.  It was perfectly light, refreshing, and still decidedly punchy.  All I needed was a hunk of bread, and I was good to go.  My version of Mémé's perfect green beans.  I wonder how she'll take it…
Excerpted from my weekly column French in a Flash on Serious Eats.  Bon app!
Happy Meatless Monday!
Crisp Haricots Verts Salad with Fresh Tomatoes and Garlic
serves 4 to 6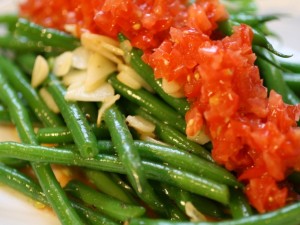 INGREDIENTS
1 3/4 pounds haricots verts, trimmed
Salt
4 teaspoons olive oil, plus 1/4 cup
20 baby plum tomatoes
16 garlic cloves, thinly sliced
PROCEDURE
Bring a large pot of water to a boil, and salt it.  Blanch the haricots verts until tender-crisp, about 4 minutes.  Drain, and shock in cold water.  Meanwhile, in a mini food processor, add the tomatoes, 4 teaspoons of olive oil, and a good pinch of salt.  Pulse until chopped.  Set aside.
Once the haricots verts have been drained, add the remaining 1/4 cup olive oil to the original pot, and set over medium-low heat.  Add the garlic and cook, stirring often, until fragrant, and just about to go golden around the edges.  Immediately add the haricots verts to stop the garlic from burning, season with salt, and toss to warm through.  Plate, and top with the chopped tomatoes.  Eat hot or at room temperature.
print this recipe