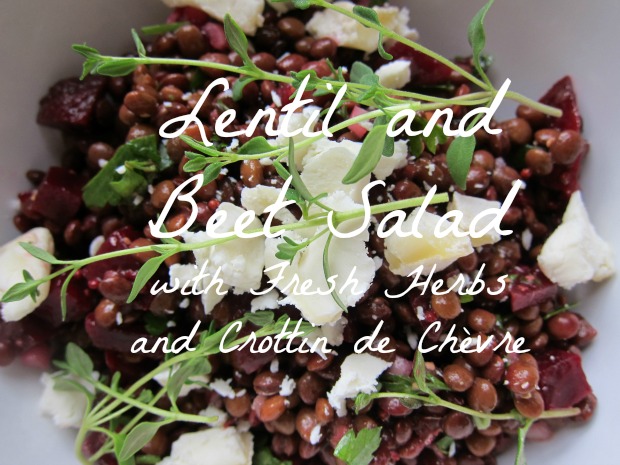 We all know I walk the line between healthy and indulgent with the perched danger of a Flying Wallenda.  But the temperatures have been soaring.  My wedding is impending.  And I have officially retreated into a world of salads.  But I can't get through real life on lettuce.  So I've been conjuring together some health-ish salads that are also hearty and, I hope, full of nutrients and flavor.  This Beet and Lentil Salad is one of them.
My grocery store, bless it, sells pre-cooked organic beets, which makes this salad instantaneous.  I dice up the beets as tiny as I can, so they matche the mini du Puy lentils that are also instantaneous: they come organic and canned.  To these I add fresh thyme and parsley, a simple whole-grain mustard vinaigrette with extra virgin olive oil, and on top, a cumbling of crottin de chèvre, which I think has more bite and heft than a plain fresh goat cheese, although you could certainly substitute that.
The beets are a bit sweet, the vinaigrette quite savory, the lentils hearty, the herbs fresh, and the cheese, salty and creamy and cool.  The beets bleed their sweet, earthy juice over everything else as this sits, and it comes together as one.  The great thing about it is, when I pack it in my lunchbox, it's so filling that I can't even finish it (I hate being starving at 4 PM), and I feel like it's full of vitamins that I probably wouldn't normally be getting, as beets and lentils are not something, like apples, that I eat every day.
I used the leftovers as a side dish for the sausage and grape roast I posted last week.  It's just versatile and great.  I hope you like it!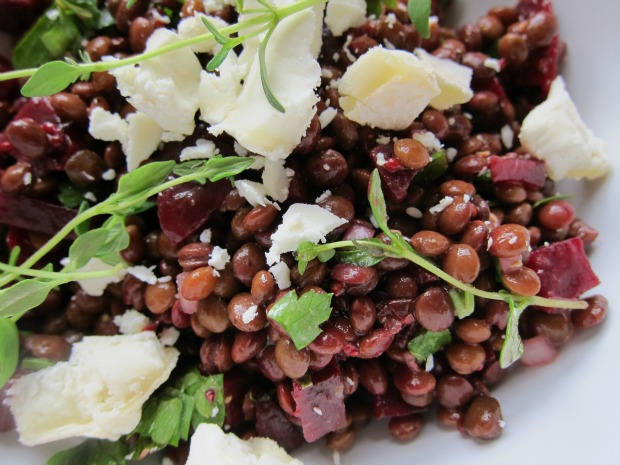 As featured in FrenchEntrée's 100 French recipes to celebrate 100 issues of FrenchEntrée magazine
Instant Organic Lentil and Beet Salad with Fresh Herbs and Crottin de Chèvre
serves 4 to 6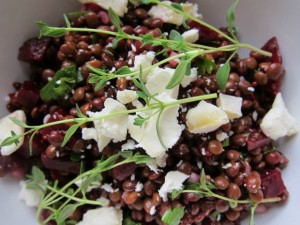 INGREDIENTS
1 tablespoon grain mustard
1 tablespoon white wine vinegar
1 small shallot, minced
A small drizzle of honey
2 tablespoons olive oil
Salt and pepper
2 cans of Puy lentils, preferably organic, drained and rinsed
6 small- to medium-sized cooked and peeled and cooled beets (some stores sell them this way, which makes this recipe a cinch), finely diced
2 tablespoons chopped flat leaf parsley
1 tablespoon fresh thyme leaves
1 crottin de chèvre, crumbled (optional)
PROCEDURE
In a large bowl, whisk together the mustard, vinegar, and shallot and let stand for 5 minutes.  Add the honey, olive oil, salt, and pepper, and whisk until emulsified.  Add in the lentils, beets, and herbs.  Season to taste.  Plate, and scatter the goat cheese over the top.
print this recipe