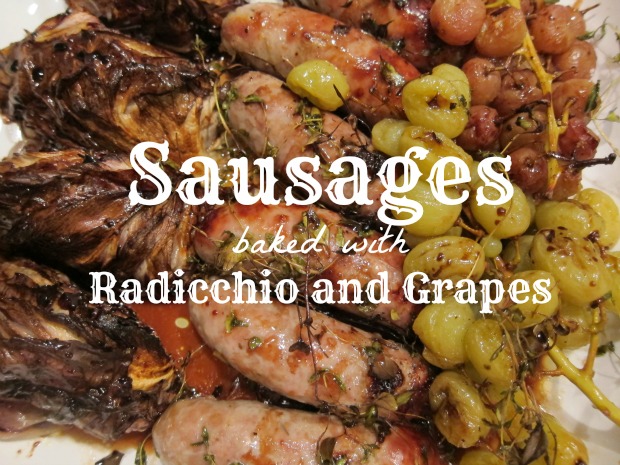 I was moved to lascivious greed by this video from Melissa Clark on the New York Times website.   She chars up sausages and radicchio on the grill, and tops them with basil.  It's so light and summery, but also interesting and different.  But, where I live, grilling outside is against-the-bylaws impossible.
I asked myself, how can I make this as easily as Melissa does, but is perhaps more year-round?  I've also been seeing the apparently Tuscan tradition of roasting meat with grapes, and decided to see what I could do with merging it all together.
This is such a cool, grape-led dish.  And to know me is to know I love grapes–especially Muscat and Concord; but for this, I just used plain old table grapes.  I started with the best organic pork sausage I could find, or you could use turkey for something lighter.  Pierce the sausage just a couple of times with the tip of a knife, and toss it in a tray (LOVE doesn't begin to describe the way I feel about these stove-to-oven-to-table Falcon enamel trays that I evangelize to everyone who visits me in England) with a big head of radicchio that I've quartered and some red and green grapes and thyme and olive oil and sea salt and cracked black pepper.  I think using both colors of grape (in my supermarket, you can buy a package that includes both) and leaving them 'on the vine' is really beautiful and honest.
Just bake the whole thing for about 25 minutes in a hot oven.  The sausages, because you've pricked them, baste and crisp in their own juices.  The outer leaves of radicchio blacken and char.  The grapes still pop, but are warm and sweet and juicy.  To add to the grape mix, I drizzle some thick, reduced balsamic over the top, along with some fresh olive oil, and serve with a serious amount of good crusty country bread.
It's such an easy dinner, but it's an unexpected one.  I made this for two late one night after work, but I think it's the perfect weekend lunch for a crowd as well.
Sausages Baked with Radicchio and Grapes with Balsamic Glaze
serves 2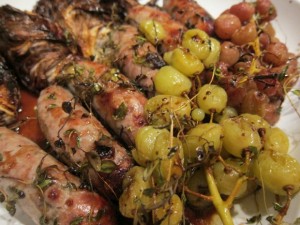 INGREDIENTS
1/4 cup balsamic vinegar
1 medium to large head of radicchio, quartered and cored
10 ounces of red and / or green grapes on the stem
6 to 8 links of excellent sausage, lightly pierced
A small bunch of thyme on the stem
Salt and pepper
2 tablespoons olive oil, plus more for drizzling
PROCEDURE
Preheat the oven to 450 degrees F.  Place the balsamic in a small pot over medium heat, and leave to simmer and reduce by half.
In a large oven tray, toss the radicchio, grapes, and thyme stems with salt, pepper, and 2 tablespoons of olive oil.  Spread the ingredients to a single layer (I like to group the grapes with the grapes, sausage with sausage, et cetera, for aesthetic reasons, and then scatter the thyme throughout) and roast until the sausage are cooked through, about 25 minutes.  As soon as the vinegar has reduced by half, leave it aside to cool and thicken.
To serve, drizzle with as much balsamic glaze as you like, and some fresh olive oil, and cut up some crusty country bread.  Bon app!
print this recipe