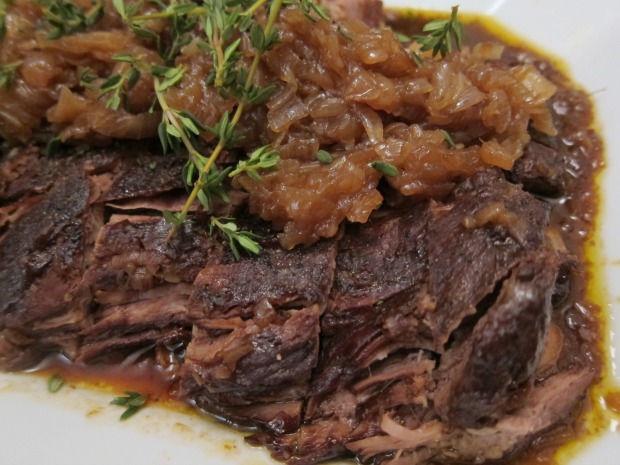 Bavette aux échalotes is a commonplace bistro dish, and I remember exactly when Mr. English fell in love with it.  It was at a tiny, vivacious place called the Coquelicot in Antibes.  He was sorting through the menu and asking me to translate.  When I finally said steak with onions after translating a few in the vein of 'veal kidneys', he put down the menu and declared 'done!'  Ever since then, it has been his 'safe' French dinner out if all else looks too Gallic.
Two of our best friends were coming over for dinner last Saturday night.  Their daughter was only a few weeks old—it was her first dinner out.  A HUGE occasion.  And we had never had people over for dinner at our new New York apartment.  An extra huge occasion.  So the pressure was on to do something crowd-pleasing and heartwarming.  I thought about the bavette.  It's a cheap cut of meat—usually skirt steak, although I prefer flank steak as I find it somewhat more tender—so I could make it in abundance (my first rule of dinner parties).  Usually, it's seared to medium-rare, topped with sautéed shallots, and glazed in red wine.  But I wanted to cozy it up for the chilling New York fall, and make it more hostess-proof (so that I wasn't manacled to the stove).
So I made my own version of slow-cooked bavette aux échalotes.  I slowly caramelized the shallots until they were soft and sweet and deeply gold.  Then, in the same pot, I just seared the two flank steaks to give them a nice barbecue-like bark, then poured some red wine and stock, garlic and thyme, and some of the caramelized shallots over them.  I left them to blip away while I got on with the rest of my life for four hours.  By the time the Bewleys arrived, the meat was fall-apart tender, and the red wine sauce sweet and reduced.  I didn't have to sear steaks 'à la minute'.  I just sliced up the steak–although it's more like stew at this point, which I love–topped it with the reserved caramelized onions, poured over the red wine jus, and topped with some fresh thyme for appearances.  It was all gone by Matilda's bedtime.
Slow-Cooked Bavette aux Caramelized Échalotes
serves 4 thoroughly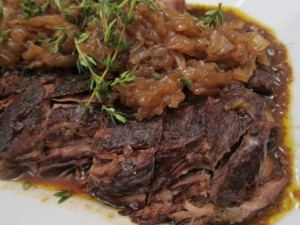 Caramelized Shallots
INGREDIENTS
20 shallots, peeled and thinly sliced
1/4 cup olive oil
Salt
METHOD
Sauté on medium to medium-low for 40 minutes.  If the pan gets too dark and you are worried the shallots are burning, add in a little bit of water as need, and stir to scrape the bits off the bottom of the pan.  Once the shallots are deeply golden and soft, set aside.
Bavette aux Échalotes
INGREDIENTS
2 1-pound flank steaks
Salt and pepper
2 tablespoons olive oil
1/2 cup red wine, like pinot noir
1 small bunch of thyme, tied with twine
6 cloves garlic, left whole in their jackets
1.5 cups beef broth
One batch of Caramelized Shallots (as above)
METHOD
Pat the steaks dry with paper towel and season liberally with salt and pepper.  Heat the oil in a Dutch oven over high heat until rippling.  Sear the meat on both sides until golden brown, about 6 minutes per side.
Add the wine to the pot, and reduce by two thirds.  Add the thyme, garlic, and beef broth, along with 1/3 of the Caramelized Shallots (stash the remainder in the fridge until you're ready to serve).  Bring the broth to a boil.  Cover, and simmer for 3.5 to 4 hours, turning the meat once.  Take off the cover, and simmer an additional 30 minutes, to thicken the sauce.
Right before serving, reheat the Caramelized Shallots (you can even do this in the microwave).  Spoon the thickened jus on a serving platter.  Carefully slice the tender steaks across the grain (they will fall apart a bit, but that's all part of the goodness).  Top with the warm shallots, and a few fresh strands of thyme if you have them.  Serve with a green salad and really good bread.
print this recipe