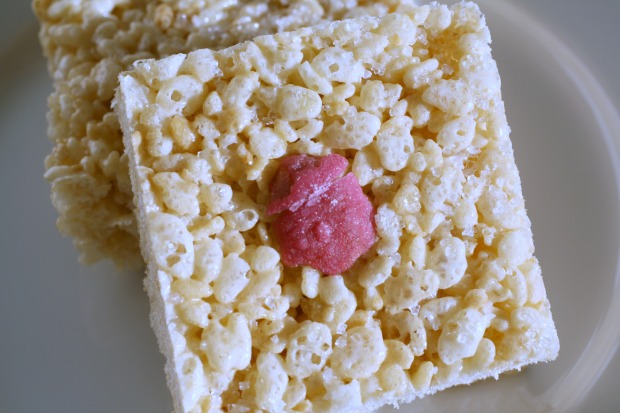 This weekend, two of our best friends from London are coming to stay, and for one of them, it's her first time in America.  I'm making them Bavette aux Échalotes for a double Valentine's dinner at home, and a bay scallop version of this scallop persillade gratin.  But I wanted something homemade and typically American to greet them when they arrive very late tonight.  I settled on Rice Krispies treats, something that always makes me feel at home because, ironically, my Moroccan grandmother makes the best ones around.
I know they're not very glamorous.  But in France, they have gorgeous, cloud-fluffy artisanal marshmallows, often flavored with floral waters, like rose or orange blossom.  I thought, can I bring a little bit of that French elegance to down home Rice Krispies treats?  Only one way to find out.
Late last night, long past my bedtime while my bavette was blipping away after three hours of post-work night braising, I stirred a spoonful of rose water into the classic Rice Krispies treats recipe.  I topped off each little square with a candied rose petal, and sprinkled them with white sanding sugar.  Honestly, I know this sounds like an exaggeration, but it was a revelation.  Just that hint of that sweet, grassy essence of rose takes the humble marshmallow from hermetic plastic bag to confiserie.  I am sitting writing this resisting my third crispy, gooey, flowery square of the day.
I know, Rice Krispies and rose water.  Very Franglais.  But hey, that's me!
Happy Valentine's Day!  Bises…
Rose Crispy Treats
makes 12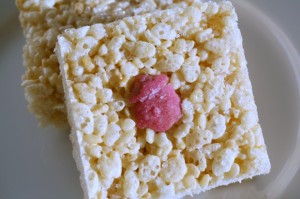 *Adapted from the back of the Rice Krispies box
INGREDIENTS
3 tablespoons unsalted butter
10 ounces marshmallows
1 tablespoon rose water
6 cups puffed rice cereal
OPTIONAL
1 drop of red or pink food coloring
Pink sanding sugar
Candied rose petals
METHOD
In a large stockpot, melt the butter over medium heat.  Add the marshmallows and stir until melted through.  Take off the heat, and stir in the rose water.  If using food coloring, add now.  Finally, stir in the puffed rice cereal.  Spread into a 9 x 13 inch baking dish sprayed with cooking spray.  Spray a piece of parchment slightly larger than 13 inches long with cooking spray.  Spray-side down, lay the parchment on the rice and marshmallow mixture, and push down gently until you have a compact, even layer.  Remove the parchment and decorate with sanding sugar or candied rose petals if using.  Cover with plastic wrap and refrigerate for 2 hours before slicing into 12 squares.
print this recipe