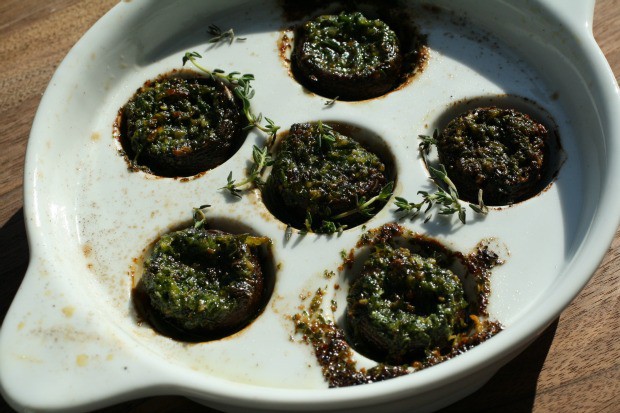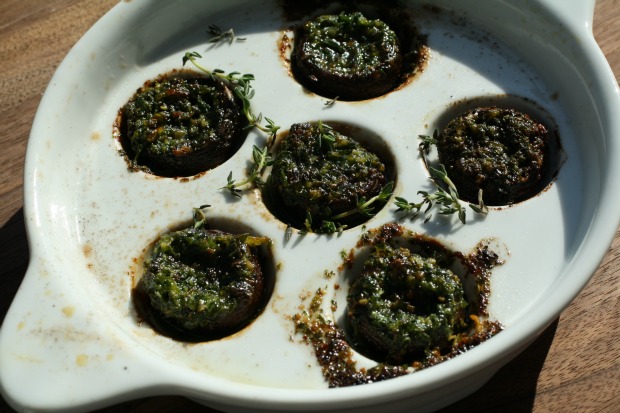 I really love Thanksgiving, and all the traditional cinnamon and spice and everything nice that goes with it.  But I love even more when those flavors are accented with the influence of "wherever you come from".  Because most of us come from somewhere.
Our Thanksgiving always presents with a French accent.  Usually it's potatoes au gratin (although this year I am making Boulangère potatoes!).  Haricots verts.  Apple cider sorbet.  It always concludes with a heated debate on whether pumpkin pie is, and I quote, "edible".  As far as I'm concerned, Marie Antoinette said "Let them eat pie".  Cake is for losers.
This year, Thanksgiving finally gave me the excuse to test a recipe I've been ruminating on for years — which was silly, because it's so simple, I could have done it years ago.
I was at my favorite restaurant in Paris with some Canadian and American friends.  My friend Parker, another real gourmand, ordered the escargots.  He said something along the lines of, Kerry, you're French, you must love these — have one.
I have to admit, I can't think of anything more disgusting than eating a snail.  Maybe one or two things, but it's definitely down at the bottom somewhere.  But I was never going to let him know that!  I put it in my mouth, and while I will never, ever do so again, I was kind of envious of Parker with his parsley-enrobed, garlic-bejeweled little morsels, and his hunks of baguette soaked in sauce.  I wanted the experience, just not the snails.
So these are mushrooms!  Earthy (just not that earthy) cremini mushrooms stuffed with the same kind of persillade butter used on escargots, punched up with some chives and thyme and lemon zest.  It is so easy to make.  Just whiz together some room temperature butter, garlic, parsley, and the rest until it's blended, then smear into the upside down mushroom caps.  I arrange them in escargot plates for effect, but you could use any oven-safe dish.  They broil, and become tender.  The butter pools and bubbles into a heady sauce.  The baguette comes out, and wipes the plate.  It's so good.
I love these as an individual appetizer for a more formal dinner, but I also love the idea of a whole baking dish full of them as something to peck on before dinner, with a glass of Champagne, as you go around the couches saying what you're thankful for.
I, for one, have been thankful lately for Paris — for how much it has taught me not only about the value of life, but also so, so much about how to live it.  Merci.
Mushrooms "Escargot Style"
serves 4
INGREDIENTS
24 cremini or baby bella mushrooms, stems removed
4 tablespoons unsalted butter, room temperature
1 clove garlic, roughly chopped
½ cup roughly chopped flat leaf parsley
10 chives
The leaves from 3 sprigs of thyme
Zest from ½ lemon
Salt
Pepper
EQUIPMENT
An oven-safe escargot dish or gratin dish
METHOD
Preheat the broiler. Using the butter wrapper, lightly grease the escargot dish. Arrange the mushrooms, one per divot, top-side-down so they are like cups you can fill.
In a small food processor, blitz together the remaining ingredients until completely incorporated and finely processed. Divide equally among the mushroom caps.
Arrange the escargot dishes on a rimmed baking sheet, and slide under the broiler. Cook until the mushrooms are just tender, and the butter is bubbling and starting to create a light crust. Every broiler is different, but in mine, it takes 10 minutes.
Eat hot with tons of fresh baguette. I actually really like a whole wheat or multigrain baguette with this, not only because I prefer heartier and healthier breads, but it just goes with the earthiness of the mushrooms. Bon app!
print this recipe