I have been making this recipe for years!  Maybe I didn't publish the recipe because they are my best friend Anna's favorite.  But she is always telling me to share, so here I go.  These are haricots verts, fine French green beans, stewed with all the flavors of the South: olive oil, garlic, tomatoes, wine, and a few shallots for good measure.
What I love about the French is that they are genuinely not into the trendy, undercooked vegetable.  French vegetables are COOKED.  And these are no different, stewed well past the point of tender crisp until they are soft, and sweet, and punchy from the tomato and wine.  These are good on their own, and I often have them in a big heap with a warm crust torn off a big loaf of country bread.  But they would also go beautifully on the side of a grilled salmon, or a seared whole fish, or on a big vegetable plate.  These are about as mighty and delicious as the little haricot vert can muster.  They don't get better than this!
Excerpted from my weekly column French in a Flash on Serious Eats.
Haricots Verts du Sud
serves 2 to 4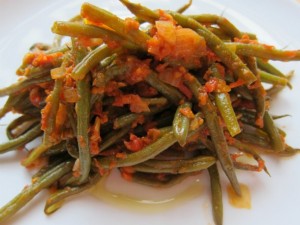 INGREDIENTS


1 tablespoons olive oil


4 small shallots, chopped


3 cloves garlic, grated


1 tablespoon tomato paste


1 pound haricots verts


2 tablespoons dry rosé or white wine


3/4 pound cherry tomatoes, pureed in a blender until almost smooth


Salt


Freshly ground black pepper


PROCEDURE
Heat the oil in a wide high-sided sauté pan over medium-high heat until it shimmers.  Add the shallots, and sauté for 3 1/2 minutes, stirring often.  Add the garlic, and 15 second later, add the tomato paste.  Cook for 15 seconds, then add the haricots verts.  Toss with the tomato paste mixture, and add the wine.  Cook for 1 minute, then add the cherry tomatoes, and season with salt and pepper.  Reduce the heat to medium-low, and simmer, covered, for 30 minutes.  Remove the lid, and simmer another 5 minutes.  Serve hot or at room temperature.
print this recipe