Sometimes I think I was born in the wrong era because one of my favorite things to do is "entertain at home".  Does that sound so Mitford?  I'll be honest: I don't do it as often as I would like.  The excuses are endless: I work, and I live in Manhattan where dinner out can cost as little as $7.00 and my "dining room" is the size of a postage stamp, and everyone's schedule is a mile a New York minute.  But in serene moments, I fantasize about having everyone over, having the time and space to put out a feast, and just sitting all night talking and laughing and refilling wine glasses until the early morning.  I like that it's about the company, which feels precious.  I like that it can last.  Shoes come off.  No one is waiting for your table.  And you make memories.
Consequently, I'm always looking for an occasion for a party.  And one that I am religious about is Bastille Day.  I'm half French, but most of my friends aren't, so it's always the perfect excuse to throw an "extra" celebration on the calendar.  Every year it changes.  One year, the famous Bastille Day can-can show at the now defunct but fabulous Florent in the Meatpacking District of New York City; another year, pétanque in Madison Square Park.  Sometimes, it's just a bottle of rosé and sandwiches on the roof, or if we're out of the city, a barbecue on the beach or in a backyard.  One lucky year, it was a rainbow of pastel fireworks from a bridge spanning the Seine, followed by a nightcap in a café spilling onto the sidewalk a stone's throw from Notre Dame (that was while I was at Le Cordon Bleu, and I'll never forget it).
As the multitude of French lifestyle books over the last few years will attest, you don't need to be French to, well, be French!  And you know what?  I'm okay with that.  I have always been evangelical about French flavors and joie de vivre.  So this year, join me in throwing a fourteenth of July fête!  You don't even need to tell people it's Bastille Day – just use it as an excuse to have people over, to celebrate summer, to rejoice, and to say chin-chin.  Or, do as I do, and go all-out:
The Food
It's summer, so I always think picnic food, things that can be picked and nicked at will throughout a long, hot night.  A reader favorite has always been my Petite Crustless Quiches with Fines Herbes and Chèvre, which you could also bake as one large quiche and serve in wedges or squares.  I love Bon Appetit's recipe for chicken roasted with garlic and herbes de Provence, which I serve at room temperature.  Another favorite is Elizabeth Bard's oven-roasted ribs with honey and rosemary, from Lunch in Paris.  But my "franglais" choice for this year is the lowly merguez baguette, street food in France: spicy North African lamb merguez sausage, charred on the grilled, and stuffed unceremoniously in a crusty baguette.  I would add half sour or new pickles and cilantro for a banh mi feel, or, instead, goat cheese and drizzle of honey, or a wonderful American red pepper preserve, or a broccoli pesto.  It's casual, but it's not expected.
To start, I recommend my riff on guacamole: avocado's mashed with goat cheese and served with artisanal potato chips (try with sweet potato chips!) and crudités.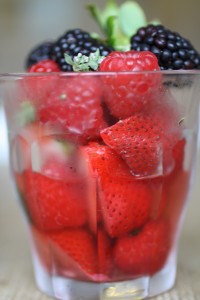 And for dessert, you have to try my new Sloshed Berries in Rosé.  It couldn't be easier, and it is so good (I have just been eating it very fashionably out of a Ball jar from the fridge).  For four people, pour a cup of rosé wine (I used côtes de Provence) into a small saucepan along with three tablespoons of sugar.  Heat the two together just until the sugar dissolves; then turn off the heat, throw in one or two sprigs of fresh thyme, and let the syrup infuse until it comes to room temperature.  One of the best combinations I picked up in France is strawberry and thyme; the herb cuts through the sweetness and adds a woodsiness that you can't quite place.  It feels grown up.  Just toss the cooled rosé wine syrup with an assortment of berries, and you have the most light, refreshing, surprising, (and intoxicating) dessert.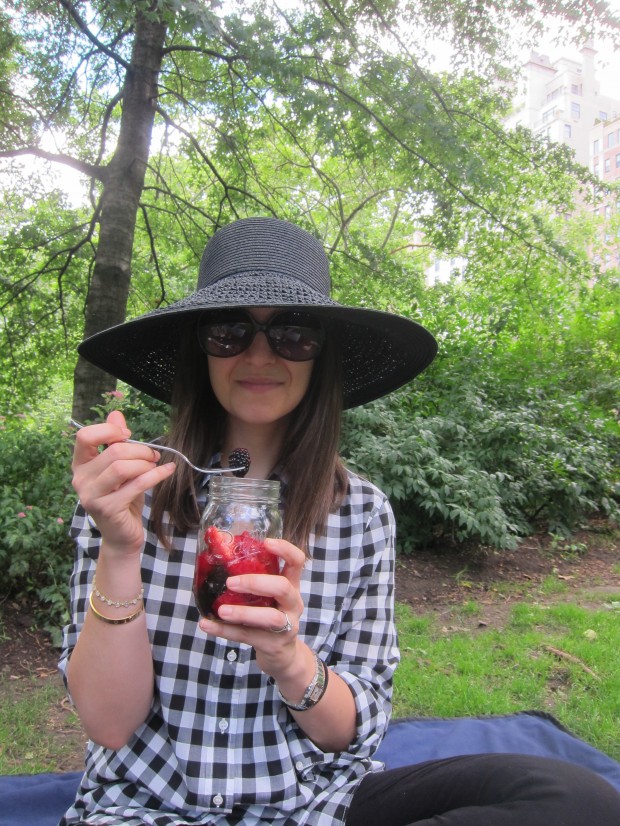 The Drinks
You can't go wrong with very cold bottles of rosé.  Another option is La Piscine, a drink I discovered in Juan-les-Pins, near Cap d'Antibes.  As fancy as it sounds, it's just champagne on the rocks, and I like how irreverent it is.  And a panaché is always refreshing: equal parts beer cut with good French limonade.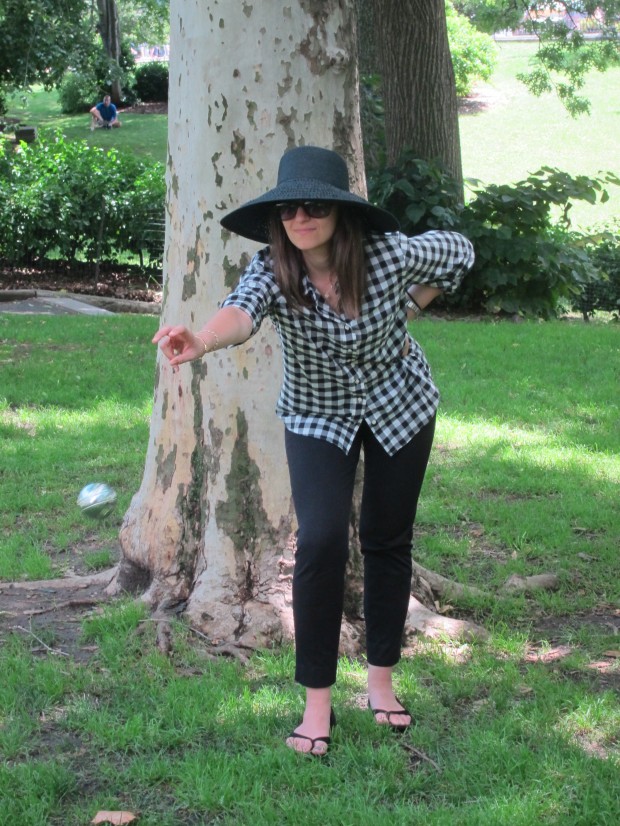 The Activities
If you are outside, it must be pétanque.  Mr. English and I have already determined that in our retirement, we will be a fiercely competitive husband-and-wife pétanque duo.  Look out Provence!
If you're at a table, play French Consequences.  Write a sentence in English, and pass it to your left.  The person there attempts to translate it to French, and then folds it so that only the French shows.  Then, the next person translates it to English, folds, and passes it along.  And so on.  By the time it gets to the end of the table, it's pretty funny.  This works best if everyone has taken a little bit of French and forgotten it, and / or you've had a few of the drinks I recommend above.
The Music
For something fun, search "French" in Songza; they have a handful of lively playlists, my favorite of which is French hip-hop.  Who can resist?
Or, for something classic, create an Edith Piaf station on Pandora.  Timeless.
The Décor
Bistro lights, strung from trees, from balcony railings, or even from bookcases always make me feel like I am eating on the sidewalk to the tune of a wonderfully wheezing accordion.  Blue, white, and pink hydrangeas on the table remind me of those wonderful pastel tricolore Parisian fireworks that July five years ago.  For me, a truly French touch is always plain white china that allows the food to speak without being interrupted.  And I love Duralex Picardie glasses: inexpensive but authentic, stackable, and perfect for water and wine.
The Invitations
I have long been a devotée of Paperless Post, which provides virtual iterations of beautiful stationary – the paper weight, the embossing, the foil magically jump of the screen, but retain the ease, timeliness, traceability of email.  I love it so much that the save-the-date to our wedding in France was created using Paperless Post.  If you search for "France" and "Paris", you'll get some great themed options!
So, bonne chance, mes amis, with your summer entertaining!  Bastille Day is such a fun occasion; and besides, I happen to think the world should celebrate things like equality, brotherhood, and freedom more often.  Bon app!
Sloshed Red Berries in Rosé Wine with Thyme
serves 4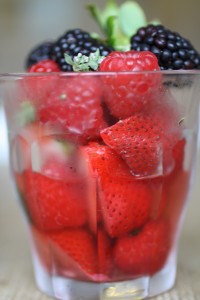 INGREDIENTS
1 cup rosé wine (like côtes de Provence)
3 tablespoons sugar
1 to 2 sprigs thyme
12 large strawberries, halved
16 blackberries
24 raspberries
METHOD
In a small saucepan, heat the wine and sugar over medium heat, stirring until dissolved.  Take off the heat and add the thyme.  Leave to infuse and cool completely.
Combine the berries and divide among four cups.  Divide the cooled syrup over them, and serve right away.  It's that easy, and so very good.
print this recipe