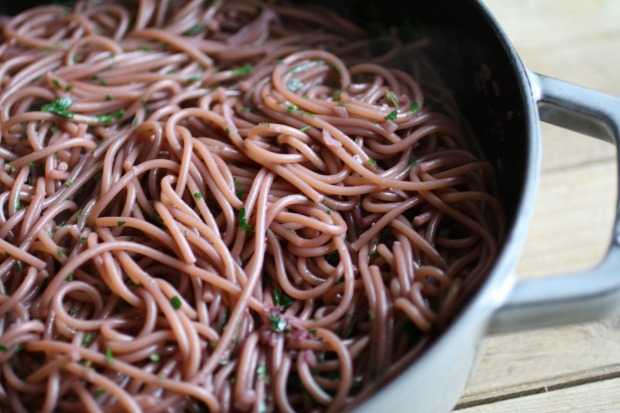 My dad is pretty special.  I know all daughters say that, but it's really true.  He has taught me a lot over the years, not least of which was how to enjoy food.  A true gourmand, he simply cannot boil water, so he educated my palate and entertained his by taking me all over Manhattan when I was young, to restaurants high and low.  He is slim, but he enthusiastically and methodically and consistently finishes whatever is put before him.  He taught me that eating, the meal, is the time and the place to connect with your family and to share your life, which is a lesson by which I have always lived.
The second lesson he taught me is a more recent one (see dad, I am still learning!).  My dad, like me, is a creature of habit.  We love adventure, but we also love to return to what is tried and true.  This is a part of myself that I have always been ashamed of, that I have always fought against.  Shouldn't we leave the neighborhood, I'll ask Mr. English, just to see what else is out there?  Isn't it boring to always order vanilla ice cream (vanilla is my favorite)?  Shouldn't I try something new?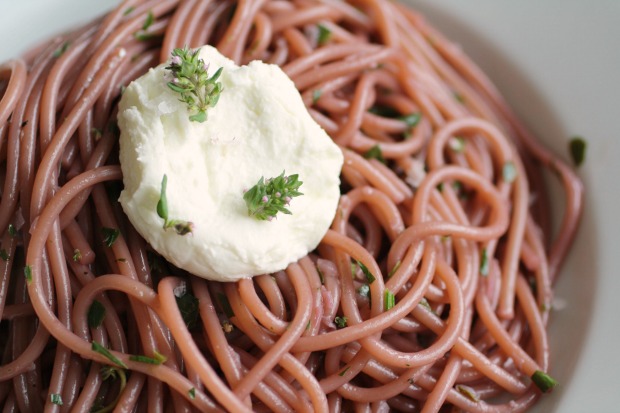 My dad does not have these hang-ups.  When he identifies something he likes, he likes it.  There is no shame; there is no restlessness.  For example, he loves pinot noir.  Whenever he orders wine, he orders pinot noir.  For years, I made fun of him.  "Come on, dad," I cajoled impatiently.  "Why don't you try something different!?"
"Because I like it."
And that is courage of conviction; not something to be admonished, but rather to be admired.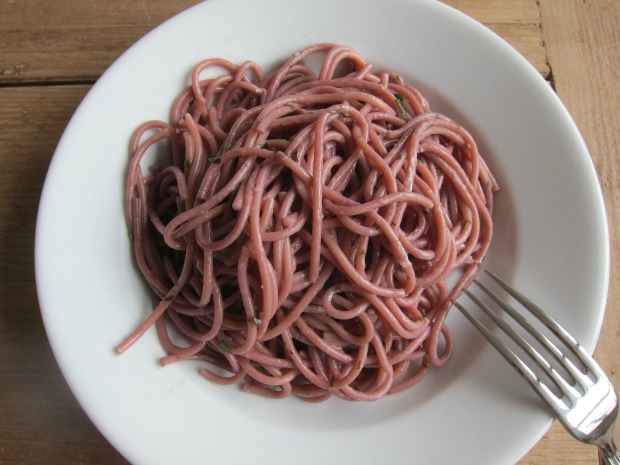 In honor of Father's Day and my dad, I created this Drunken Goat Pasta, thick spaghetti drowned and cooked in a bottle of pinot noir.  It is incredibly farmhouse in flavor: the pasta is cooked with shallots, garlic, and thyme sautéed simply in olive oil.  It slurps up both the color and the flavor of the dry, light, fruity pinot noir, which becomes the essential flavor of the dish.  And it is finished with fresh parsley, a touch of butter, and creamy goat cheese, which you can either serve sliced or crumbled on top of the pasta, or melted into it.
I just feel like this dish is so my dad; it is sophisticated, but also simple and honest.  My dad doesn't eat meat, so it captures his sensibilities.  But I have to say, I think it would go beautifully as the unexpected side to a roast chicken or a braised cut of beef.
Happy Father's Day to everyone out there; tonight, I will toast my dad with a glass (and a pot!) of pinot noir.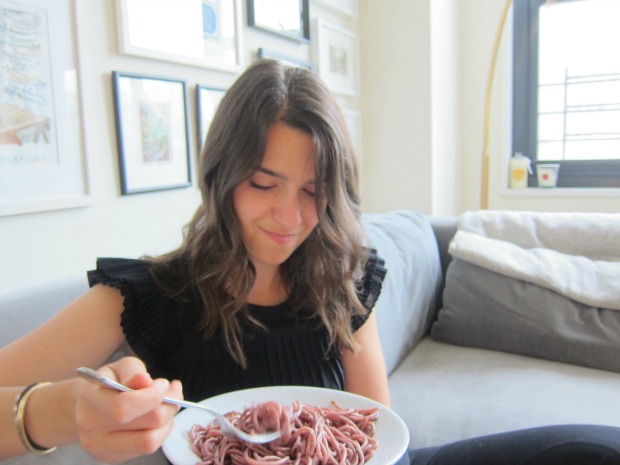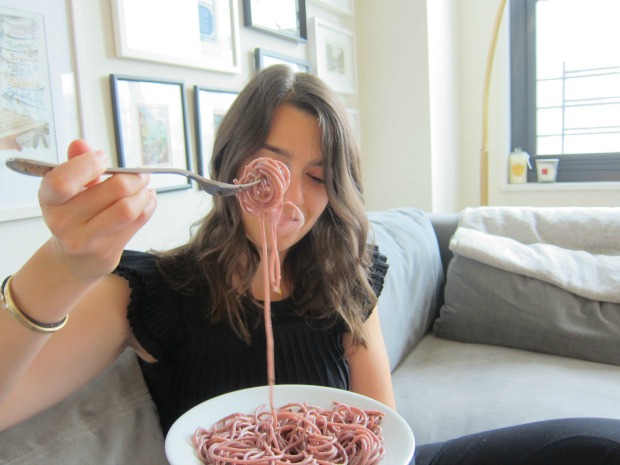 Drunken Goat Spaghetti
serves 4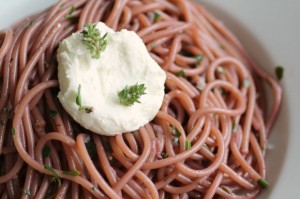 INGREDIENTS
1 pound thick spaghetti, spaghettoni, (recommended: Barilla), or regular spaghetti
Salt and pepper
1 tablespoon olive oil
1 shallot, minced
2 large cloves garlic, grated
1 tablespoon chopped fresh thyme
1 bottle Pinot Noir
1 tablespoon unsalted butter, cold
¼ cup chopped parsley
2 ounces chèvre
METHOD
Bring a large bottle of salted water to a boil.  Cook the pasta for half of the amount of time prescribed on the box.  It should be soft enough to bend, but not yet al dente.
Meanwhile, in a heavy-bottomed braising pot, heat the olive oil over medium-low heat.  Add the shallots and sweat for three minutes until soft.  Add the garlic and thyme, season with salt and pepper, and just heat through for one minute.  Add the pinot noir, salt well, and bring to a bubble.
Use a pair of tongs to transfer the pasta from the boiling water to the bubbling wine (you'll want to keep the pasta water in case you need to loosen the sauce later).  Cook the pasta, stirring occasionally, until it is al dente, and which point the wine will have been absorbed into the pasta.  Add the butter and parsley, and toss through.  Then, you can either add the goat cheese now, and toss through to melt, or you can serve it sliced or crumbled up on top of the pasta.  Bon app!
print this recipe