Two weeks ago, sitting on a wooden bench under a leafy tree in a breezy London park, my boyfriend, known affectionately as Mr. English, turned to me and said, "Will you marry me?"
I knew it was time for a new column.
Everywhere I look, I see the same thing: couples living together, both working hard, coming home tired and hungry. We all want to eat well, especially in a time when good, creative, local, special food has become part of our daily zeitgeist, but we don't always have time to do it. That is my life. And so, I'm writing a new Friday column called Dinner for Two.
It's all about dinners that are fast but sophisticated, simple but delicious. All the recipes are done in a matter of minutes, using just a handful of easily found ingredients, prepared simply but inventively, most of the time in a single skillet or pot. Recipes meant for those of us with very little time but a lot of ambition. You don't need much skill in the kitchen, a ton of space in your fridge for leftovers, or a lot of patience for washing dishes. You just need a hearty appetite.
Cooking for two is really my favorite way to cook. You have someone to cook for, to share with, but nothing is too arduous, and you can keep it fun. In the coming weeks, we'll be making pork loin roasted in sweet, spicy ginger preserves and thyme. Salmon crisped under mustard-spiked breadcrumbs. Fiery sliced steak tacos with cool avocado cream. And scallops broiled in a dish with ruby-red Spanish chorizo. None of these dishes takes more than 30 minutes or 1 pot. We (you, me, and Mr. English) are in for a feast.
To start things off, try these Coconutty Mussels. I make a quick a broth from coconut milk, sliced ginger, fresh lime, cilantro, chilies, and lemongrass. Sounds exotic, but you can get all those ingredients in the produce aisle of almost any supermarket. Then, I use that fresh, tangy, spicy, creamy broth to steam open a couple of pounds of mussels. They cook in less than five minutes, and are just about the most inexpensive seafood you can get—I bought enough for the both of us for under five dollars.
Plus, you get to eat with your hands, and I don't think there's anything more romantic than a steaming pot of hot mussels to share. Very twenty-first century Lady and the Tramp. Again, 30 minutes, one pot, and seven easy-to-find ingredients. A little bundle of pre-cooked rice noodles nestled underneath the mussels will help suck up all the coconutty broth, and I can fish them out with some of the takeout chopsticks that accumulate in my silverware drawer. If your supermarket doesn't sell them precooked, all you have to do is soak the dry version, easily found in your supermarket's Asian aisle, in some hot water for a few minutes.
Simple as that. Of course, if you're not the noodle type, a loaf of crusty bread is always a good sauce-soaking tool.
This recipe is pretty great, if I do say so myself. Happy cooking, and happy eating, to you and your very lucky plus one.
From my weekly column Dinner for Two on Serious Eats.  Check it out every Friday!
Coconutty Mussels with Ginger, Lemongrass, Chili, and Cilantro on Rice Noodles
serves 2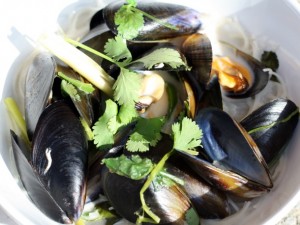 INGREDIENTS
1 can coconut milk
1/3 cup water
1 inch of fresh ginger, peeled
1 6-inch stalk of fresh lemongrass
A small bunch of fresh cilantro
1/2 lime
1 jalapeno or Fresno chili, thinly sliced
2 pounds of mussels (buy them de-bearded and scrubbed: usually that's how they come)
Sea salt
1 10-ounce package of precooked rice noodles
PROCEDURE
Pour the coconut milk and water into a large stockpot over low heat.  Slice the ginger into rounds.  Halve the lemongrass, and beat it with the dull side of the knife to release its flavor.  Tear the leaves from the cilantro stalks.  Peel three strips of zest from the lime with a vegetable peeler.
Add the ginger, lemongrass, cilantro stalks (reserve the leaves for later), and lime zest to the coconut milk.  Raise the heat to high, bring the coconut milk mixture to a boil, then lower the heat all the way down to the lowest setting.  Cover the pot and steep the broth for 25 minutes.
Raise the heat to high and add the chilies and mussels and season with salt.  Cover, and steam the mussels open for 4 to 5 minutes.  Add in the roughly chopped cilantro leaves.
To serve, cut the half a lime from which you stripped the zest in half.  In two large bowls, place large handfuls of the rice noodles.  Divide the mussels and broth over the noodles.  Serve with 1 lime wedge in each bowl.
A NOTE ABOUT MUSSELS
Cooking mussels couldn't be easier.  When you bring the mussels home from the store, throw out any that are open.  Then, steam them open with a little bit of liquid (coconut milk, in this case) in a large pot with a lid over a high flame.  In about 5 minutes, they will all have opened.  That means they are perfectly cooked.  If there are any mussels that this point did not open, discard them.  That's it.
print this recipe